CrossFit Brunswick – CrossFit
-New Member Back-to-School promotion! For a limited time, we are taking 15% off new membership commitments. (Don't forget our referral policy… help your friends save some $$$ and you could get a FREE month of CrossFit!!)
-Holiday Schedule: Labor Day (Monday Sept 3rd) 9am & 415pm Classes ONLY!!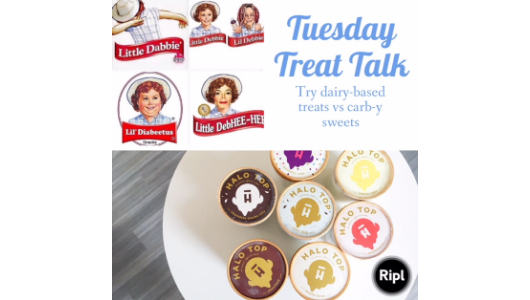 If you MUST have the sweets, ice cream (dairy/dairy-free) has healthier fats than say a Swiss Roll or a Honey Bun. Or you could have a good yogurt (also a probiotic) and eliminate some sugars. #treatyoself #occasionally #lildebheehee #healthiertreat #cfb

Warm-up
20min for Warm-up, Mobility, & Instruction
6min EMOM

40sec Slow Row + Single-Unders

20sec Rest & Rotate

40sec Moderate Row + AMSU

20sec Rest & Rotate

40sec Hard Row + Double-Unders (or attempts)

20sec Rest & Rotate
Then, Mobility

Bar Smash/Foam Roll Quads, 1min/side

Banded Ankles, 1min/side

Wrist/Forearm Mobility, 1min/side
Review & Warm-up for today's Farmer Carry.

Strength
In 10min:
3 x 200m Farmer's Carry AHAP
Use Dumbbells, KBs, Bumper plates, etc to find the heaviest load you can carry for an unbroken 200m carry.

Metcon
Metcon (Time)
3 Rounds for Time, 18min Cap:

60 Double-Unders

40 AMSU

20 Cal Row

Extra Credit
Strength/Accessory: 5 x 10 GHRs (Add weight if able)

Skill/Conditioning: 2 x 800m Sprints 1:1 rest:work

Mobility: Lax Ball/ VooDoo Floss Forearms