CrossFit Brunswick – CrossFit
Box News: Today is Free Friday & CFB Social! Bring a friend in to any class for a FREE PartnerWOD! CFB Social to follow the 615pm Class. Anyone doing the Nutrition Challenge that plans to attend, bring some compliant REAL FOOD snacks to share!
Second Nutritional Lecture will be TOMORROW at 10am.
Congrats to Daniel & Danielle on the arrival of baby William and to Vanessa and Cory on the arrival of Millie & Hudson!!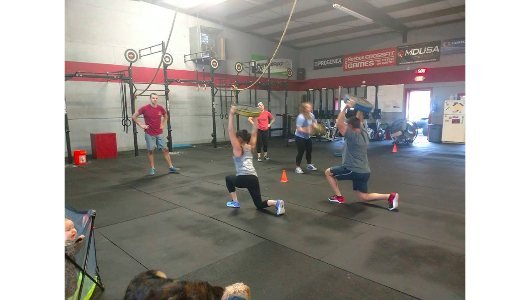 It's Free Friday! Bring a friend for a great workout and then stay for the social! #openretest #partnerwork #crossfitbrunswick #fitfam

Warm-up
12min for Warm-up, Mobility, & Instruction
~5min Coach's Choice Warm-up Game
~5min Coach's Choice Dynamic Mobility
Warm-up Push Press

Strength
20min Alt EMOM

Even Min: Push Press

Odd Min: Box Jumps or T2B
-Beginners will use this to learn and practice the skills needed for today's PartnerWOD

Push Press (10 x 5)
-1set of 5 reps every 2min for 20min (10 rounds)

-Start at ~55-60%1RM and increase by ~5% every 2 sets.

-Final 2 sets should be at 75-80~1RM.

-Alternate practicing T2B and Box Jumps between sets.

Metcon
CrossFit Games Open 12.3 (AMRAP – Rounds and Reps)
18-Minute AMRAP of:

15 Box Jumps, 24″ / 20″

12 Push press, 115# / 75#

9 Toes-To-Bar
***PARTNER WOD VARIATION***

Leapfrog through the movements for 18min.
Only score the WOD as RX if you do it solo, for future retesting.

Extra Credit
Strength/Accessory: Weighted Tabata Planks

Skill/Conditioning: 10min EMOM 10 WBS (Heavy)

Mobility: Lax Ball to Shins