CrossFit Brunswick – CrossFit
Box News: The CrossFit Open starts TOMORROW February 22nd with our first Friday Night Lights starting THIS FRIDAY!! Sign-up for the Open at https://games.crossfit.com/open and sign-up for Friday Night Lights at the box. You may still sign up for FNL but we cannot guarantee you'll get a T-Shirt.
Everyone that signs up for The Open will be entered in a drawing for a FREE MASSAGE compliments of Misuk!!
If you have never done the Open with us, we will post Friday's Workout Thursday evening's once it has been announced. There will be a suggested Warm-up & Strength as necessary to prep you for the WOD, but it will only be a suggestion. Our morning classes will run at normal class times. For our afternoon class times, we will instead have 'heats' or 'waves' for everyone to sign-up for, preferably battling it out against members from the other Friday Night Lights teams!
*please note that anyone participating in the Open and/or FNL will be required to be judged by a coach or athlete, hence the 'waves' format. *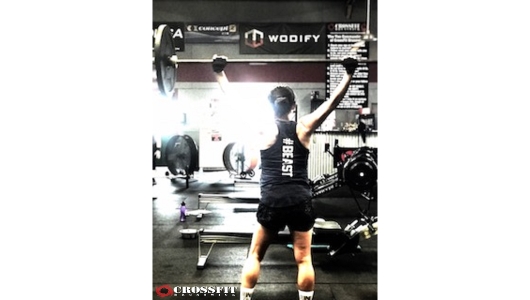 BE A BEAST. #beastmode #wcw #openprep

Warm-up
12min for Warm-up, Mobility, & Instruction
SLOW 3min AMRAP

10 alt Box Step-ups

10 AMSU

10 WBS
Then, Mobility

Wrist/forearm Mobility, ~2min

Rig Squats ~2min
Then, 5reps each w/empty barbell
Hang Power Clean

Elbow Rotations

Good Mornings

Front Squat

Push Press

Thruster

Strength
Thruster (10 x 1+1+1)
-1 Power Clean + 1 Front Squat + 1 Thruster, every 2min for 20min (10sets)

-start light and build to a heavy set of the complex, aiming for at least 1 set at +90% 1RM Thruster.

-Alternate practicing Box Jumps & Toes-to-Bar between sets.

Metcon
Metcon (AMRAP – Rounds and Reps)
18min AMRAP:

30 Thrusters 95/65

30 Box Jumps 24/20

30 Toes-to-Bar

30 Cal Row

Extra Credit
Strength/Accessory: 2 x ME GHD Hip Ext

Skill/Conditioning: 500m Row Sprint

Mobility: Foam Roll/Bar Smash Lats