CrossFit Brunswick – CrossFit
Box News: Today is Free Friday! Bring a friend to any class today for FREE! CFB Social to follow the 6:15pm class!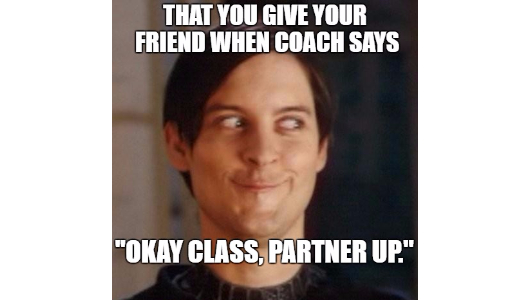 # freefriday #partnerwods

Warm-up
12min for Warm-up, Mobility, & Instruction
5min of "MB Hot Potato" with a partner or small group
Mobility:

Dragon Stretch, 1min/side
Warm-up Front Squats

Strength
Ten 2min sets, alternating movements:

A) 5 Front Squats

B) 90 seconds of Rowing Practice

1. 90sec Slow Row

2. 90sec to focus on the "Catch"

3. 90sec to focus on the "Drive"

4. 90sec to focus on the "Release" & "Return"

5. 90sec Medium Row to put it all together

-One partner will practice their rowing technique while the other rests.

Front Squat (5 x 5 @ 60-70%)
Metcon
Metcon (AMRAP – Rounds and Reps)
13min Partner Relay:

1 Cal Row

1 Burpee

1 WBS

-increase reps by 1 each round

Extra Credit
Strength/Accessory: 3×8-10 DB Bent Over Row (per arm)

Skill/Conditioning: 400mSprint (walk to the 800m mark and sprint back)

Mobility: Super Squats Hip Series