CrossFit Brunswick – CrossFit
Box News: Reminder, you have until tonight at 8pm to complete 18.4 and submit your scores for the Open/Friday night Lights!
-We will continue our Open Schedule this Friday with a *suggested* warm-up and 'Heat' sign-up board for everyone to do 18.5! Be sure and stick around to cheer on your fellow athletes!
-Reminder that we will NOT be having our monthly Free Friday & Social this month.
-NEXT SATURDAY, March 31st, we will be having our CFB Competition & Cookout for all our Friday Nights Lights Athletes. Details coming soon!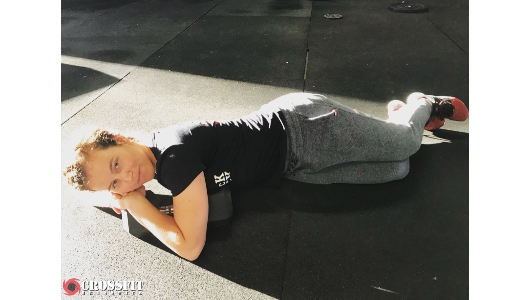 Glamour shots by CFB–dumbbells and other gym epuipment included. Happy Monday, everyone! Last day for 18.4 tests and/or score submissions! #nomoredeadlifts #oneanddone #18point4 #oneweekleft #glamorshots #glamkanz

Warm-up
10min For Warm-up, Mobility, & Instruction
"Roxanne"
Then, Mobility as needed

Bow & Arrow Stretch 1min/side

T-Spine Ext. ~2min
Then, 5reps each w/a empty barbell or PVC

Tall Muscle Snatch

Hang Muscle Snatch

OHS

Tall Power Snatch

Hang Power Snatch

Power Position Sots Press
Warm-up Hang Snatch to ~50% 1RM

Strength
Hang Snatch (20 x 1)
-1rep every 90sec for 30min (20 Rounds)

-start at ~50%1RM and increase weight every FOUR rounds by 5-10%

-last 4 rounds should be 75-90%1RM

Metcon
Metcon (Time)
For Time, 9min Cap:

21-15-9

Hang Snatches 75/55 (+115/80)

Bar-Facing Burpees

Extra Credit
Strength/Accessory: 5 x ME Strict Pull-ups

Skill/Conditioning: 5 x 100m Sprints

Mobility: T-Spine Ext, 5min