Posted by
James Colson
on Mar 13, 2018 in
WODs
|
0 comments
CrossFit Brunswick – CrossFit
Box News: Congrats to Team Squattin' 4 Cinnamon Rolls for another win! That's three weeks in Row! Tune in Thursday night at 8pm to find out what our Week 4 Workout is!
-We will continue our Open Schedule this Friday afternoon, with a *suggested* warm-up and 'Heat' sign-up board for everyone to do 18.4! Be sure and stick around to cheer on your fellow athletes!
-Reminder that we will NOT be having our monthly Free Friday & Social this month.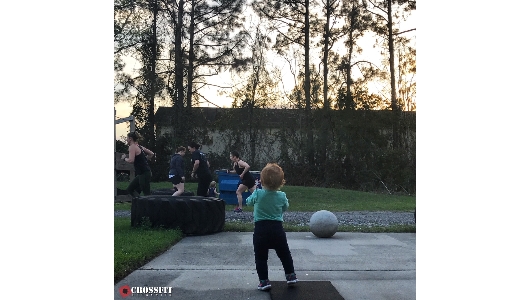 Run, ladies, RUN! #wcw #getoutside #springisintheair #quadsquad
Warm-up
12min for Warm-up, Mobility, & Instruction
SLOW 4min AMRAP:
6 Box Jumps/Step-ups

7 Band Pull-Aparts

8 Push-ups
Then, Mobility as needed:

Banded Internal/External Shoulders, 1-2min/side

Wrist mobilirt, 1-2min/side
Then, 5 reps each w/barbell
Hang Power Clean

Elbow Rotations

Front Squat

Shoulder Press

Push Press

Push Jerk

Split Jerk
Warm-up Shoulder Press
Strength
Overhead Complex (Total Weight)
Shoulder Press (1 Rep Max)
Push Press (1 Rep Max)
Split Jerk (1 Rep Max)
Shoulder Press

Push Press

Jerk
30min EMOM

1 Shoulder Press EMOM for a 1RM, then

1 Push Press EMOM for a 1RM, then

1 Split Jerk EMOM for a 1RM.
-All reps from the floor!
Metcon
Metcon (Weight)
7min AMRAP for Weight:

10 Box Jumps 24/20″ (+30/24)

3 Shoulder-to-OH*
*Athletes choose their own weight prior to starting the workout.
-Score is combined weight lifted in 7min.
Extra Credit
Strength/Accessory: 5 x 8-10 per arm DB Row

Skill/Conditioning: 10min EMOM, 10-15 WBS

Mobility: Lax Ball to Shoulders/Lats, Shins/Calves