Posted by
James Colson
on Dec 5, 2017 in
WODs
|
0 comments
CrossFit Brunswick – CrossFit
Box News: New Month, New Hashtag! Use #books4kids to help support Toys for Tots!!
This Month's Free Friday will be the 15th. NO SOCIAL (see below)
Kate & Al will be hosting our Christmas Party this year on Saturday the 16th! More details to come!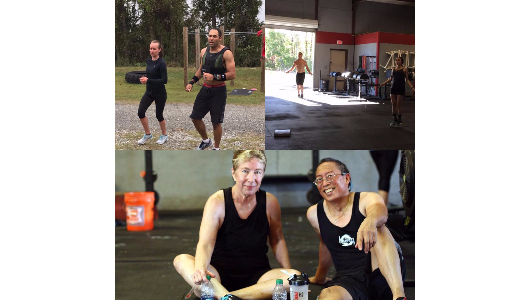 They say couples who workout together stay together, we are inclined to believe that! So grab your partner and get in a workout! #partnerwodforever # Fitfam #lifestyle
Warm-up
10min for Warm-up, Mobility, & Instruction
"Sally Squats" w/PVC Overhead!
Then, Mobility:

2-4min PVC Shoulders and Athlete's Choice Hips
Warm-up OHS out of the racks
Strength
Overhead Squat (10 x 5)
-1 set of 5 reps every 2min for 20min (10sets).

-Use first 5 sets to warm-up to 60-70%%1RM

-Do last 5 sets all at same weight.

-Warm-up/Practice HSPU/Pull-ups/MU between sets
Metcon
Metcon (AMRAP – Rounds and Reps)
20min AMRAP:

2 Burpee Chest-to-Bar Pull-ups (+ Bar MUs)

4 HSPU (+ 4″ Deficit)

8 OHS 115/80 (+155/105)
Extra Credit
Strength/Accessory: Accumulate 3min/side Pallof Press

Skill/Conditioning: 10min EMOM, 50off 10on, Assault bike Sprints

Mobility: Shoulders Shoulders Shoulders