CrossFit Brunswick – CrossFit
-REMINDER: Free Friday & CFB Social AS WELL AS a baby shower for Coach Lauren & Coach Sarah will be THIS FRIDAY. There is a sign-up sheet on the front desk for anyone planning to attend. Both Lauren & Sarah are registered at Target & Amazon.
Be sure to come and bring a box of diapers for a diaper raffle! Along with the fun and games we will be giving away some awesome prizes for the raffle as well as a game or two!
Bring some Diapers your appetite and your funny bones! See you and your friends on Friday!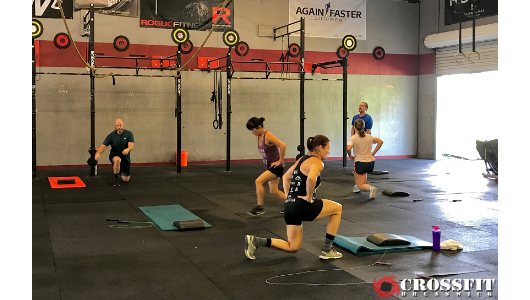 Lunging into hump day like.. #buildthatbooty #makegains #sorefordays #humpday #crossfitbrunswick
Warm-up
15min for Warm-up, Mobility, & Instruction
Slow 5min AMRAP

10 HR Push-Ups

10 Band Pull-Aparts

10 Cs & Ds
Then, Mobility

Coach's Choice Banded Shoulders, 5-6min
Then, Review & Warm-up Shoulder Press to ~70-75%1RM
Strength
Shoulder Press (10 x 3)
-1 set every 2min for 20min (10sets)

-All sets at the same weight, ~70-75%1RM.

-All sets will be from the FLOOR.

-Superset with 3-5 T2B per set, focusing on your kipping technique & timing .
Metcon
Metcon (4 Rounds for reps)
Four 2min Rounds for Reps:

25 HR Push-ups (+HSPU)

ME STRICT Pull-ups (+STRICT C2B)
REST 2min between Rounds.
-Score will be Push-ups PLUS Strict Pull-ups completed each round.
Extra Credit
Strength/Accessory: 5 x ME Dball Carry AHAP

Skill/Conditioning: For Time, 30 Dball Ground-over-Shoulder

Mobility: Foam Roll/Lax Ball Lats & Shoulders