CrossFit Brunswick – CrossFit
-Happy October CrossFitFam! This month we are having our Free Friday & CFB Social AS WELL AS a baby shower for Coach Lauren & Coach Sarah on the Friday the 12th. Contact Coach Kansas for details.
-This month we are checking-in to promote breast cancer awareness with #breastcancerawareness.
-There will an email coming out this weekend with IMPORTANT UPDATES AND ANNOUNCEMENTS.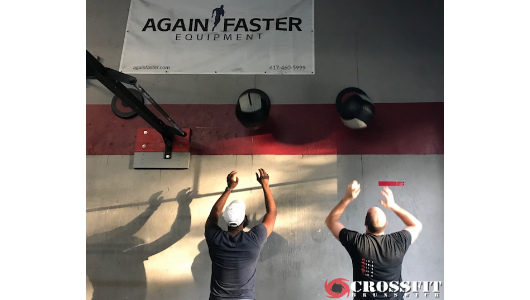 Happy Hump Day! Athletes De and Mike going rep for rep.. a little friendly competition brings some spice to those wods! #pusheachother #encourageyourpartner #havefun #crossfitbrunswick
Warm-up
15min for Warm-up, Mobility, & Instruction
3 Sets of

10 WBS

10 AMSU

10 Cs&Ds
Mobilize AS NEEDED

Rig Squats

Banded Shoulders
Then, w/ empty barbell
5 High-Hang Power Cleans + 1 Paused Front Squat

5 Low-Hang Power Cleans + 1 Paused Front Squat

5 Mid-Shin Power Cleans + 1 Paused Front Squat

5 Hang Squat Cleans

5 Mid-Shin Squat Cleans
Warm-up Squat Clean to 50% 1RM
Strength
Clean (10 x 1)
-1 rep every 90sec for 15min (10sets)

-2 sets @ 50%

2 sets @ 60%

2 sets @ 70%

2 sets @ 75-80%

2 sets @ 80-85%
-Aim for squat cleans today using good technique with the progressively heavier loads. But save the 90+% attempts for the workout!
Metcon
Metcon (AMRAP – Rounds and Reps)
0:00-6:00

Buy-in: 50 WBS 20/14

Then, AMRAP in remaining time:

5 Pull-ups

10 Push-ups

15 Air Squats
6:00-10:00 REST
10:00-15:00

Find a 1RM Clean
Clean (5min to find a 1RM)
-Barbells may be preloaded DURING THE REST period, not before.
Extra Credit
Strength/Accessory: 5 x 20 GHD Sit-ups

Skill/Conditioning: 400m Sprint (jog to the stop sign and sprint back)

Mobility: Couch Stretch, 3min/side