Posted by
James Colson
on Jan 2, 2018 in
WODs
|
0 comments
CrossFit Brunswick – CrossFit
Box News: 6 Week Nutrition Challenge Starts this Saturday! We will do a benchmark HeroWOD @ 9am like usual, followed by any preliminary testing/measurements you want taken, and the 1st Nutrition Lecture will start at 10am!
Next Tuesday the 9th, we will be hosting a 'Pamper Event' from Wellman Family Healthcare from 4-6pm. Sign-up sheets are on the counter to reserve your free 15min massage! LIMITED SPOTS AVAILABLE!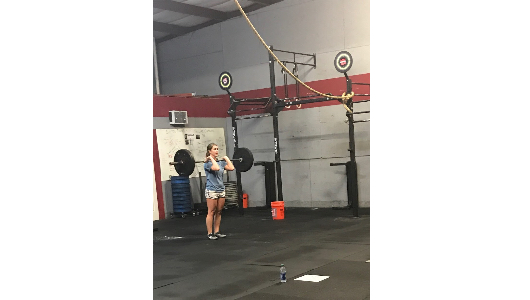 Athlete Kori killing some front squats! Look at that concentration! #frontsquat #wcw #fitmom

Warm-up
20min for Warm-up, Mobility, & Instruction
2 Rounds

40sec Jump Rope

20sec REST

40sec WBS

20sec REST

40sec HR Push-Ups

20sec REST
Then, Mobility

Internal/External Shoulder Rotations, 2min/side

PVC Shoulders, 2min

T-Spine Ext, 2min
Then, 5reps w/empty bar or PVC
Hang Power Clean

Elbow Rotations

Shoulder Press

Push Press

Push Jerk
Warm-up Complex

Strength
Overhead Complex (10 x 1)
Strict Press + Push Press + Push Jerk
-1 set of the complex every 90sec for 15min (10sets)

-Start as light as desired and build as heavy as possible.

-Can be from the racks.

Metcon
Metcon (AMRAP – Rounds and Reps)
15min AMRAP:

60 Double-Unders

30 WBS 20/14

15 Shoulder-to-Overhead 95/65 (+135/95)

Extra Credit
Strength/Accessory: 5 x ME L-Sit Hang

Skill/Conditioning: 2 x 1k Row, 2min rest between

Mobility: Lax Ball to Shins/Ankles