CrossFit Brunswick – CrossFit
-WEATHER ALERT: We are keeping a close eye on Hurricane Florence. There are currently no plans to alter our current schedule.
-The Free Friday & CFB Social will be NEXT Friday the 21st!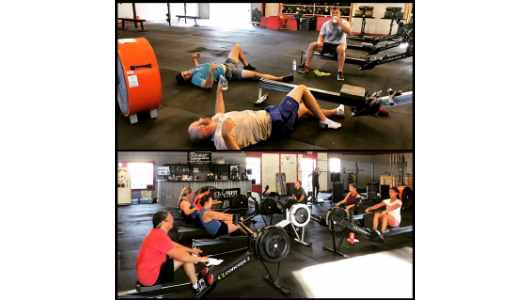 Kudos to all the athletes who made it out yesterday for our annual 9/11 Row! #2977meters #neverforget #thatsgoingtohurt #crossfitbrunswick
Warm-up
15min for Warm-up, Mobility, & Instruction
8min EMOM:

2 Rounds, 40sec On 20sec Off
Partner Med Ball hot potato

Partner sit-ups with med ball toss

Partner plank with med ball roll

Partner squats with med ball toss
2min hang from rig- dead hang/active shoulders
Mobilize in remaining time :

Arm circles

T spine mobility

Foam roll legs if sore
Skill Work
Today we will spend ~15min working on Kipping Toes-to-Bar
Practice Cs & Ds

Progress to consistent kipping Knee Raises

Practice bigger kips/higher knees & K2E

Work towards T2Bs

(if you have consistent T2B already, try STRICT T2B!)
The focus here is a tight core & kip for consistency, not necessarily getting toes to bar.
Metcon
Metcon (AMRAP – Rounds and Reps)
20min Partner Leapfrog:
1 Burpee

1 Pull-up

1 KBS
2 Burpees

2 Pull-ups

2 KBS
3, 3, 3.. etc.
Rx: 53/35

Rx+: 70/53, C2B pull ups
*Partners must tag and swap each movement, adding 1 rep to each round.

*Score is round last completed plus additional reps.

(If partners complete round 8 KBS, score is 8 rounds even)
Extra Credit
Strength/Accessory: 3 rounds of 200 m D-Ball carry AHAP Unbroken

Skill/Conditioning: Tabata Assault Bike Sprints

Mobility: Shoulders, shoulders, shoulders.