Posted by
James Colson
on Aug 8, 2017 in
WODs
|
0 comments
CrossFit Brunswick – CrossFit
Box News: M/F Partner Throwdown THIS SATURDAY at 9:30AM! We will be hosting another get together/partner comp with CF SSI, everyone is invited and encourage to join!
The Twins' farewell WOD is TODAY @ 5:15. :(
Chris's farewell WOD will be on Saturday the 19th @9am!
Free Friday this month will be next Friday the 18th.
CFB will be hosting the Garage Games World Wide WOD on September 9th!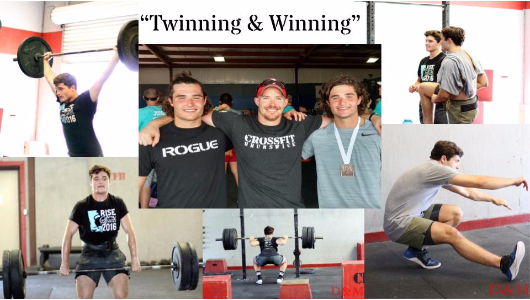 Farewell to these STUD Athlete coaches! You will be missed!!

Warm-up
25min for Warm-up, Mobility, and Instruction.

800m Partner Run w/MB
5 High-Hang Power Clean & Shoulder Press

5 High-Hang Power Snatches

5 Pull-ups

5 Low-Hang Power Clean & Push Press

5 Low-Hang Power Snatch

5 Pull-ups

5 Mid-Shin Power Clean & Push Jerk

5 Mid-Shin Power Snatch

5 Pull-ups
Mobility: Coach's Choice Shoulders
Warm-up Clean & Jerk, Pull-up progressions, and Snatches

Metcon
Twins Taking Off (Time)
Partner WOD

For Time, 30min Cap:

60 Clean & Jerks 135/95 (+155/105)

45 Pull-ups (+C2B)

30 Snatches 95/65 (+135/95)

15 Chest-to-Bar Pull-ups (+Muscle-ups)

-One athlete working at a time, swapping as desired.

*Every time partners SWAP, they must BOTH to 25 DUs (75 Singles), one athlete at a time.

Extra Credit
Strength/Accessory: 3 x 8-10 OHS

Skill/Conditioning: 10min EMOM of 10-15WBS

Mobility: Spend at least 5min each on your lats and/or Shoulders.