Posted by
James Colson
on Jun 12, 2018 in
WODs
|
0 comments
CrossFit Brunswick – CrossFit
-June's Free Friday & CFB Social will be THIS Friday June 15th! Bring a friend to any class this Friday for a Free PartnerWOD!
-Nutrition Challengers; Your next Lecture will be THIS Saturday the 16th at 10am with Coach Kansas (not the 23rd as previously listed).
-Don't forget about Father's Day coming up this Sunday!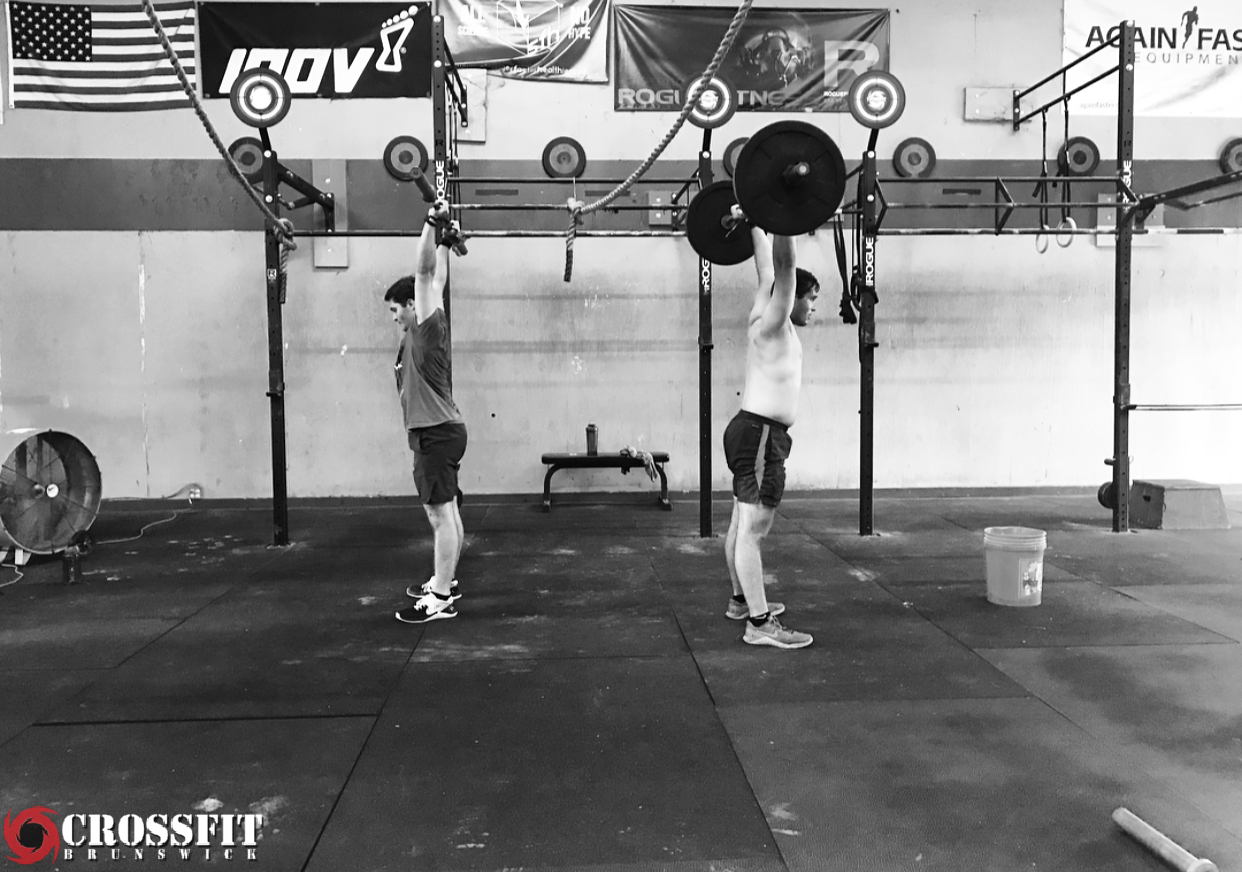 Know what makes any workout better? Suffering together! Partner wod today guys! Grab a friend and get to the gym! Also, Free Friday is THIS FRIDAY. Bring out the crew for a fun workout and hang sesh after 6:15. #partnerwod #wodtwinning #itllbefun #cfb,Know
Warm-up
20min for Warm-up, Mobility, & Instruction
~5min Coach's Choice Warm-up Game
~5min Coach's Choice Mobility
Then, Warm-up & Review Today's Gymnastics
Skill Work
5 Rounds of:

30sec Strict Pull-ups

30sec REST

30sec Strict Ring Dips

30sec REST

30sec Pistols

30sec REST
Strict Pull-ups (5 x ME in 30sec)
-Score you WORST set
Strict Ring Dips (5 x ME in 30sec)
-Score you WORST set
Pistols (5 x ME in 30sec)
-Score you WORST set
Metcon
Metcon (AMRAP – Reps)
Six 2min Rounds for Reps:
0:00-2:00

Partner A: 200m Run + ME Pull-ups (+C2B)
2:00-4:00

Partner B: 200m Run + ME Pull-ups (+C2B)
4:00-6:00

Partner A: 200m Run + ME HR Push-ups (+HSPU)
6:00-8:00

Partner B: 200m Run + ME HR Push-ups (+HSPU)
8:00-10:00

Partner A: 200m Run + ME Air Squats (+Alt Pistols)
10:00-12:00

Partner B: 200m Run + ME Air Squats (+Alt Pistols)
-When one Partner is performing their two-minute round of running & gymnastics, the other Partner will be doing Max Reps of AMSU (+Toes-to-Bar)
-Score will be a combined total of reps completed by both partners. (All Pull-ups, Push-ups, Squats, AND Sit-ups)
Extra Credit
Strength/Accessory: 2 x ME GHD Hip Ext, add weight if able

Skill/Conditioning: For Time, 3mile Assault Bike

Mobility: 10min Athlete's Choice Mobility