CrossFit Brunswick – CrossFit
-To our Nutrition Challengers; Your next lecture will be this Saturday June 9th at 10am where we will go over Nutrition Timing & Partitioning.
-June's Free Friday & CFB Social will be next Friday June 15th!
-Don't forget about Father's Day coming up on June 17th!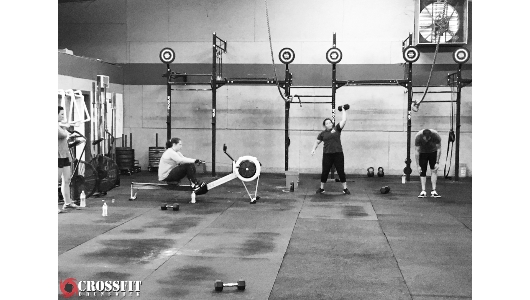 Surround yourself with like-minded people; want better things for yourself–no person is going to give you everything! #pushyourself #encourageothers #bekind #workthehardest #hwpo #cfb
Warm-up
15min for Warm-up, Mobility, & Instruction
2 Rounds

20sec KBS

10sec Rest

20sec Bottoms Squat Hold w/KB

10sec Rest

20sec alt Box Step-Ups w/KB

10sec Rest
Then, Mobility

Wrist Mobility, 3-4min
Then, w/empty barbell
5 Tall Muscle Clean + 1 Front Squat

5 High Hang Muscle Clean + 1 Front Squat

5 Low Hang Muscle Clean + 1 Front Squat

5 Push Press

5 High Hang Power Clean + 1 Front Squat

5 Low Hang Power Clean + 1 Front Squat

5 Push Jerk
Review & Warm-up Low-Hang Clean & Jerks
Strength
Low-Hang Clean & Jerk (6 x 3, 4 x 2)
-One set of 2 or 3 reps every 2min for 20min (10 total sets)

-Reps do NOT have to be touch-and-go.

-Start at 60%1RM and increase by 5% EVERY TWO SETS. Final 2 set should be 80%1RM.

-2×3@60%

-2×3@65%

-2×3@70%

-2×2@75%

-2×2@80%
Metcon
Metcon (AMRAP – Rounds and Reps)
12min AMRAP:

6 Box Jump Overs 24/20 (+30/24)

5 Deadlifts

4 Hang Power Clean

3 Front Squat

2 Shoulder-to-OH

1 Thruster

Rx: 95/65

Rx+: 135/95
Extra Credit
Strength/Accessory: 5 x ME L-Sit Hang

Skill/Conditioning: 400m Sprint. Jog to the 800m mark, then sprint back.

Mobility: Banded Shoulders, 3min/side