Posted by
James Colson
on May 16, 2017 in
WODs
|
0 comments
CrossFit Brunswick – CrossFit
Box News: Free Friday this week! Bring a friend by to any class on Friday for Free! CFB Social at 7:15pm!
Memorial Day Murph coming up on the 29th.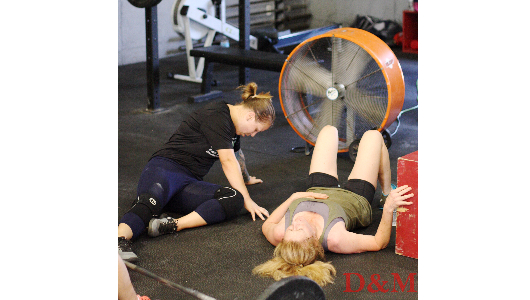 Vanessa & Barbara after a tough WOD #WCW

Warm-up
40min for Warm-up and WOD Prep.

Every 4min for 16min (4sets),

15 Cal Row

10 Barbell Thrusters

-Use remaining time each set to Mobilize:

1. PVC Shoulders

2. Banded Tricep/Shoulder Stretch

3. Rig Squats

4. Couch Stretch

WOD Prep
Every 4 Minutes for 20minutes (5 sets):

3 Thrusters, building as heavy as desired.

3 Pull-ups, working on skill/strength progressions.

3 HSPU, working on skill/strength progressions.

Thruster (5 x 3)
3 pull-ups & HSPU after each set.

Metcon
Metcon (AMRAP – Reps)
13min AMREP

55 Calorie Row

55 Thrusters 95/65

55 Pull-ups

55 HSPU

Extra Credit
Strength: 4 x 4 Clean Pulls AHAP

Core: 5 x 90/90 Holds

Conditioning: 10min Assault Bike, Sprint last 10 sec of every min.