Posted by
James Colson
on May 15, 2018 in
WODs
|
0 comments
CrossFit Brunswick – CrossFit
Box News:
-Summer Tank Tops are available for pre-order!
-Free Friday & Social will be THIS Friday! Bring a friend to any class on Friday for a FREE PartnerWOD!
-We will be closed for this Saturday's HeroWOD. Instead we will be meeting at the Coast Guard Station at East Beach at 9AM for a BeachWOD!
-Our next 6-Week Nutrition Challenge will be starting on Saturday May 26th! Going with a team challenge this time! Grab your teammates and sign-up at the front desk!
-Memorial Day Murph will be Monday, May 28th at 10AM!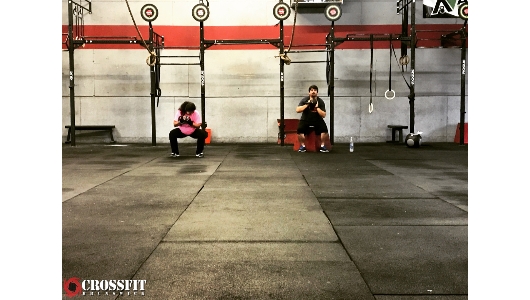 Athlete/power couple Mike and Bhumi getting after some goblet squats together! If you see them around, say hello! They are just getting started and are really pushing some limits! #newathletes #sayhey #gobletsquats #crossfitbrunswick #fam
Warm-up
10min for Warm-up, Mobility, & Instruction
3min AMRAP:

10 WBS

10 AMSU w/ MB

10 Band Pull-Aparts
Then, 4min for Mobility:

Internal/External Banded Shoulders, 2min/side
Then, 5 reps each w/empty barbell

Hang Power Clean

Elbow Rotations

Behind-the-Neck Shoulder Press

Shoulder Press
Review & Warm-up Shoulder Press
Strength
Shoulder Press (Build to a 5RM)
-15min Cap

-can be from the racks
Shoulder Press (3 x 5 @ today's 5RM)
-additional 10min

-may also be from the racks

-Warm-up/Practice Pull-ups between sets
Metcon
Metcon (AMRAP – Rounds and Reps)
13min AMRAP:

21 WBS 20/14

15 Pull-ups

9 HSPU
Extra Credit
Strength/Accessory: 5 x 8-10 DB Bent Over Rows

Skill/Conditioning: 5 x Row Sprint, 1min On 2min Off

Mobility: Banded Bully Stretch, 2min/side