Posted by
James Colson
on Apr 10, 2018 in
WODs
|
0 comments
CrossFit Brunswick – CrossFit
Box News:
– We are starting a new block of Programming this week! Please take care to use your recent 1RM numbers when calculating weight percentages, as this will be the BEST way to see improvement in the coming months!
-Our next 21-Day Challenge starts next Monday the 16th. Tell your friends!!
-Free Friday & CFB Social will be back this month on April 20th!!
-We will be doing a Beach WOD Day May 19th!! Details coming soon…
-Memorial Day Murph will be Monday, May 28th at 10AM!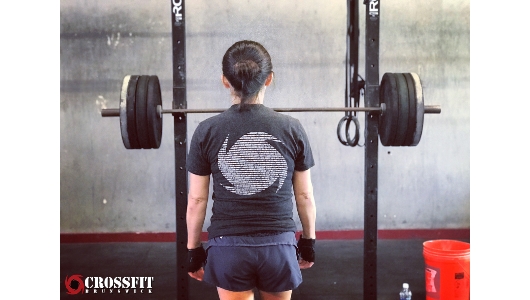 Our WCW goes to this strong, disciplined lady! She's a little bullet and we are certain she makes the best sushi in town! #backsquats #heavy #sayheytoMisuk #strongwomen #wcw
Warm-up
15min for Warm-up, Mobility, & Instruction
60′ High Knees

60′ Butt Kickers

10 WBS

60′ Walking Samson Stretch

60′ Walking Groiner Stretch

10 WBS

60′ Banded Glute Activation

60′ Banded Glute Activation

10 WBS
Then, Mobility (as needed):

Dragon Stretch, 1min/side

Pigeon Stretch, 1min/side
Review and Warm-up Back Squats
Strength
Back Squat (10 x 5)
-20min cap, or 1 set of 5 reps every 2min for 20min (10 sets)

-Use first 5 sets to work up to your working weight for today, 60-65%1RM.

-Last 5 sets are all at the same weight.

-On your final set, go for Max Reps (put reps in comments)

-Perform 2-3 HEAVY "High" Box Jumps after each set. (land with Hips as high as possible, not necessarily on a high box)
Metcon
Metcon (AMRAP – Rounds and Reps)
12min AMRAP:

21 WBS 20/14

15 Box Jumps 24/20 (+30/24)

9 Front Squats 115/80 (+155/105)
Extra Credit
Strength/Accessory: 5 x 10 GHRs (add weight or tempo if able)

Skill/Conditioning: 800m Walk/Run, 200m Intervals

Mobility: Foam Roll/Bar Smash Quads