Posted by
James Colson
on Feb 6, 2018 in
WODs
|
0 comments
CrossFit Brunswick – CrossFit
Box News: The CrossFit Open starts February 22nd with our first Friday Night Lights starting on the 23rd!! Sign-up for the Open at https://games.crossfit.com/open and sign-up for Friday Night Lights at the box by Feb 15th to guarantee your t-Shirt!!
Everyone that signs up for the Open will be entered in a drawing for a FREE MASSAGE compliments of Misuk!!
Free Friday & CFB Social will be Friday the 16th. THIS WILL BE THE LAST SOCIAL UNTIL AFTER THE OPEN!!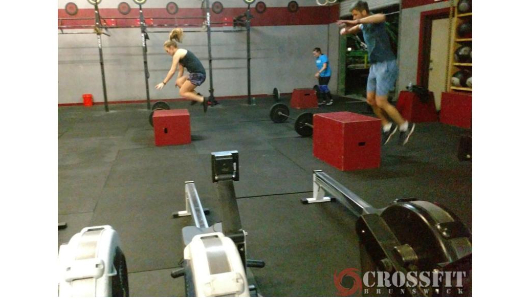 Athletes in motion is a wonderful thing! #crossfitbrunswick #boxjumps #openprep2018
Warm-up
15min for Warm-up, Mobility, & Instruction
800m Partner Run w/MB
Then, Mobility:

2min PVC Shoulders

2min T-Spine Extensions

2min Rig Squats
Then, 5 reps each with an empty barbell or PVC
Hang Power Snatch

Snatch Push Press (behind the neck)

Overhead Squats
Warm-up OHS
Strength
Overhead Squat (10 x 3)
-1set of 3 reps every 2min for 20min (10 rounds)

-Use first 5 sets of 3 reps to warm-up to today's working weight, ~75-80%1RM

-Second 5 sets of 3 reps all at the same weight.

-Warm-up/practice WBS between sets.
Metcon
Metcon (Time)
For Time 15min Cap:
100 WBS 14/10 (+20/14)
*400m penalty run w/MB for breaking the WBS
-The idea today is to choose a weight that you can do BIG sets with and go as unbroken as possible.

-Breaking will be any break in the WBS… dropping the ball, resting against the wall, resting while holding the ball, etc etc.
Extra Credit
Strength/Accessory: 5 x 8-10 DB Bicep Curls

Skill/Conditioning: Run 400m every 3min for 12min.

Mobility: Dragon Stretch, 3min/side