Posted by
James Colson
on Feb 12, 2018 in
WODs
|
0 comments
CrossFit Brunswick – CrossFit
Box News: Free Friday & CFB Social will be THIS Friday the 16th. THIS WILL BE THE LAST SOCIAL UNTIL AFTER THE OPEN!!
We will be Re-Testing to close out our Nutrition Challenge THIS SATURDAY. 9am HeroWOD Re-Test with weigh-outs & measurements after.
The CrossFit Open starts February 22nd with our first Friday Night Lights starting on the 23rd!! Sign-up for the Open at https://games.crossfit.com/open and sign-up for Friday Night Lights at the box by Feb 16th (THIS FRIDAY!) to guarantee your limited edition T-Shirt!!
Everyone that signs up for The Open will be entered in a drawing for a FREE MASSAGE compliments of Misuk!!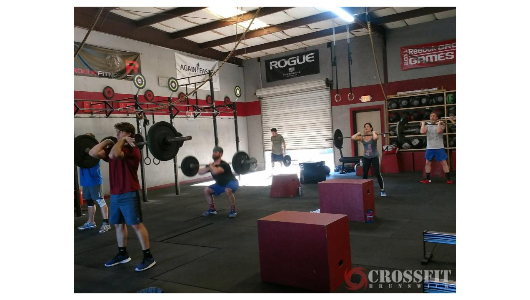 Warm-up
20min for Warm-up, Mobility, & Instruction
40sec Jump Rope + HR Push-ups (slow down, explode up)

20sec REST & Rotate

40sec Jump Rope + Band Pull-Aparts

20sec REST & Rotate

40sec Jump Rope + Hand Stand Hold

20sec REST & Rotate
Then, Mobility:

PVC Shoulders, ~2min

Int/Ext Shoulder Rotations 2min/side

Wall/Floor Pec Stretch 1min/side
Warm-up Shoulder Press to 55-60%1RM
Strength
20min Alt EMOM

Even Min: Shoulder Press

Odd Min: Strict Pull-up
Shoulder Press (10 x 3 @ 55-60%)
-From the floor

-All sets at the same weight

-These are supposed to feel lighter, so move the barbell off your chest AS FAST AS POSSIBLE!

-On the last set do a ME Set
Strict Pull-ups (10 x 3-5)
-do 3-5 reps every set. Scale down with bands, scale up with weight. May adjust intensity up or down as desired

-On the last set do a ME Set
Metcon
Metcon (Time)
For Time, 10min Cap:
Buy-in: 400m Run
Then: 12-9-6

Bar-Facing Burpees

Pull-ups (+C2B)
Cash-out: 20 Thrusters 75/55 (+115/80)
Extra Credit
Strength/Accessory: 5 x 8-10 DB Bicep Curls/arm

Skill/Conditioning: 800m SPrint (walk to the turn around and sprint back)

Mobility: Couch Stretch, 3min.side