Posted by
James Colson
on Dec 4, 2017 in
WODs
|
0 comments
CrossFit Brunswick – CrossFit
Box News: New Month, New Hashtag! Use #books4kids to help support Toys for Tots!!
We are looking at doing our Christmas Party outside the box year! If anyone has any suggestions (or wants to host one) let James know!
This Month's Free Friday & CFB Social is tentatively scheduled for the 19th. We will keep you updated with the details!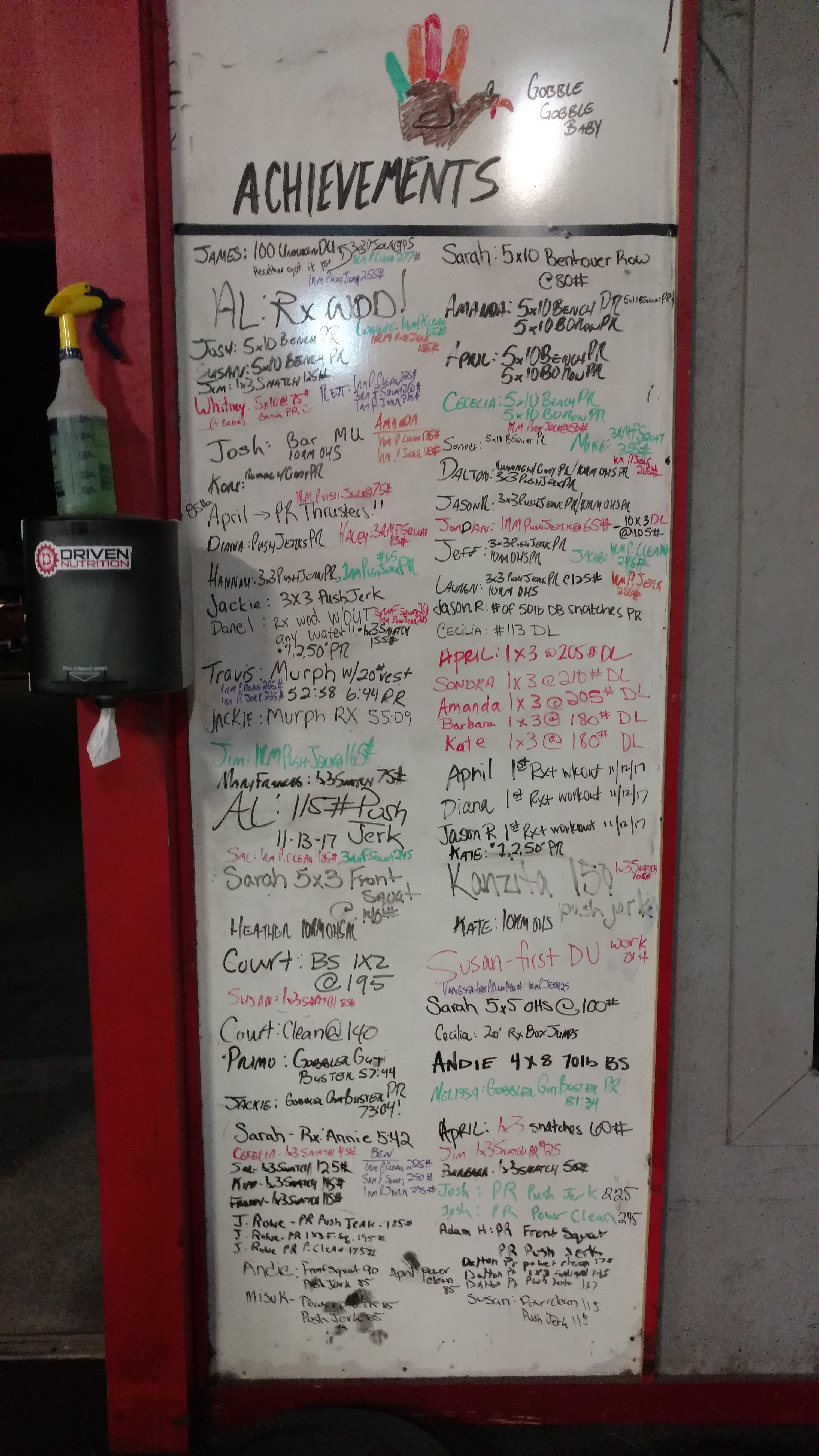 You guys rock! That achievement board got filled up last month & we love seeing progress! #gainsfordays #achievments #hardworkpaysoff
Warm-up
18min for Warm-up, Mobility, & Instruction
2 Rounds With a partner and an MB….

40sec Air Squat w/ MB toss

20sec Rest

40sec AMSU w/ MB toss

20sec Rest

40sec Bottom Squat Hold 'Hot Potato'

20sec Rest
Then, Mobility:

Banded Shoulder/Tricep Stretch, 1min/side

Bow & Arrow Stretch, 1min/side

T-Spine Ext. 2min
Then, w/an empty bar
5 Tall Muscle Cleans

5 High-Hang Muscle Cleans

5 Low-Hang Muscle Cleans

5 Tall Power Cleans

5 High-Hang Power Cleans

5 Low-Hang Power Cleans
Warm-up Power Clean to 60-65%
Strength
Power Clean (15 x 2)
-1 set of 2 reps EMOM for 15min

-First 5 sets @ 60-65%

-Second 5 sets @ 65-70%

-Last 5 sets @ 70-75%

-Drop and reset each rep
Metcon
Metcon (Time)
5 Rounds For time, 14min Cap:

10 Power Cleans 115/80 (+155/105)

10 Bar-Over Burpees
Extra Credit
Strength/Accessory: 5 x 8-10 DB Bicep Curls

Skill/Conditioning: 5 x ME HS Hold

Mobility: Foam Roll/ Bar Smash Lats