Posted by
James Colson
on Nov 13, 2017 in
WODs
|
0 comments
CrossFit Brunswick – CrossFit
Box News: Free Friday and CFB Social THIS FRIDAY!
Happy WODsgving Competition at CF Grit this Saturday, November 18th.
3rd Annual "Gobbler Gut Buster" Partner WOD, Black Friday, November 24th @ 9am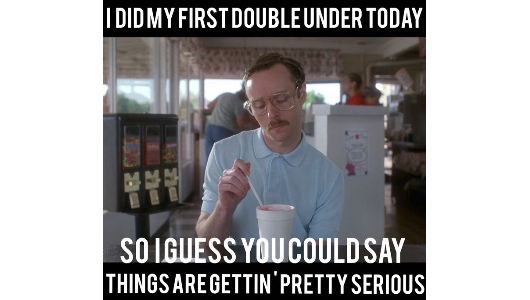 Practice makes perfect, except for double unders…..that's just luck.

Warm-up
20min for Warm-up, Mobility, & Instruction
8min EMOM

2 rounds

40sec Jump Rope

20 sec Rest

40sec Rig Squats

20sec Rest

40sec Hang Power Snatch w/PVC

20sec Rest

40sec PVC Shoulders
Then, 5reps each w/ an empty bar

High-Hang Muscle Snatch

Low-Hang Muscle Snatch

Mid-Shin Muscle Snatch

High-Hang Power Snatch

Low-Hang Power Snatch

Mid-Shin Power Snatch
Mobility: T-spine Extensions/Openers, 2min
Warm-up Power Snatch to 60-65%

Strength
Power Snatch (15 x 2 )
-1 set of 2 reps EMOM for 15min

-First 5 sets @ 60-65%

-Second 5 sets @ 65-70%

-Last 5 sets @ 70-75%

-Drop and reset each rep

Metcon
Metcon (Time)
For Time, 15min Cap:

100 Power Snatch 75/55 (+115/80)
*Do 30 Double-Unders (+UB) at 0:00, 3:00, 6:00, 9:00, & 12:00.
-add any remaining reps to the timecap in seconds.

Extra Credit
Strength/Accessory: 5 x 8-10 DB Bench Press

Skill/Conditioning: 5 x 100m Sprint

Mobility: Lax Ball to shins/calves