Posted by
James Colson
on May 14, 2018 in
WODs
|
0 comments
CrossFit Brunswick – CrossFit
Box News:
-Summer Tank Tops are available for pre-order!
-Free Friday & Social will be THIS Friday! Bring a friend to any class on Friday for a FREE PartnerWOD!
-We will be closed for this Saturday's HeroWOD. Instead we will be meeting at the Coast Guard Station at East Beach at 9AM for a BeachWOD!
-Our next 6-Week Nutrition Challenge will be starting on Saturday May 26th! Going with a team challenge this time! Grab your teammates and sign-up at the front desk!
-Memorial Day Murph will be Monday, May 28th at 10AM!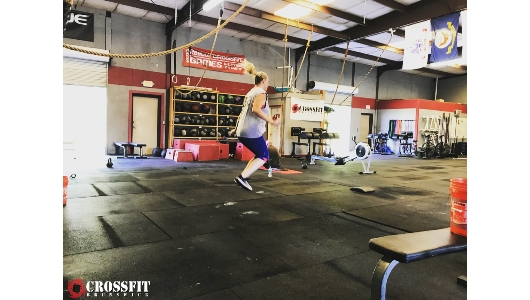 Who's ready to run, jump, and row? Get those legs and lungs ready for a good burner today! #testingregionalswods #lessrepstho #getreadytosweat #crossfitbrunswick #ouch
Warm-up
12min for Warm-up, Mobility, & Instruction
2 Rounds

40sec Jump Rope

20sec Rest

40sec Walking Lunges

20sec Rest
Then, Mobility

Banded Ankles, 3min/side
Metcon
Triple Double (Time)
For Time, 40min Cap:

2mile Run

200 Double-Unders

2000m Row
-In honor of the Triple 3 WOD being done at the 2018 CrossFit Regionals!
-If timecapped, enter 40min for your score and how far you got on the row in the comments.
Extra Credit
Strength/Accessory: 2 x ME GHD Sit-ups

Skill/Conditioning: 5 x Burgener Warm-up w/training Bar

Mobility: Lax Ball to Calves/shins/ankles