Posted by
James Colson
on Feb 5, 2018 in
WODs
|
0 comments
CrossFit Brunswick – CrossFit
Box News: The CrossFit Open starts February 22nd with our first Friday Night Lights starting on the 23rd!! Sign-up for the Open at https://games.crossfit.com/open and sign-up for Friday Night Lights at the box by Feb 15th to guarantee your t-Shirt!!
Everyone that signs up for the Open will be entered in a drawing for a FREE MASSAGE compliments of Misuk!!
Free Friday & CFB Social will be Friday the 16th. THIS WILL BE THE LAST SOCIAL UNTIL AFTER THE OPEN!!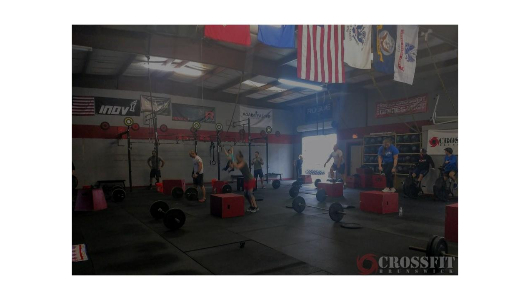 Warm-up
15min for Warm-up, Mobility, & Instruction
3 Rounds

20sec WBS

10sec REST

20sec Jump Rope

10sec REST

20sec AMSU

10sec REST

20sec Burpees

10sec REST
Then, Mobility:

Banded Ankles, 1min/side

Banded Shoulder/Tricep stretch, 1min/side
Then 5 reps each w/empty barbell

Tall Muscle Clean

High Hang Muscle Clean

Low Hang Muscle Clean

Push Press

Tall Power Clean

High Hang Power Clean

Low Hang Power Clean

Push Jerk
Warm-up Clean & Jerk to
Strength
Clean and Jerk (15 x 1)
-1 rep EMOM for 15min

-start at ~50%1RM and increase by 5-10% every 3 sets.

-final 3 sets should be between 75-95%1RM
Metcon
Metcon (AMRAP – Reps)
20min AMREP:

50 WBS 20/14

50 Double-Unders

40 Box Jumps 24/20

40 Toes-to-Bar

30 Chest-to-Bar Pull-ups

30 Burpees to 6″ Target

20 Cleans 135/95

20 Jerks 135/95

10 Snatches 135/95

10 Ring Muscle-ups
*This is another Open style chipper. Highly recommended to approach this WOD with any specific scale/modifications that you normally see in the Open.
Extra Credit
Strength/Accessory: 100 GHD Hip Ext

Skill/Conditioning: 10min EMOM 10 WBS

Mobility: Internal/External Shoulder Rotations