CrossFit Brunswick – CrossFit
***SCHEDULE ANNOUNCEMENT: WE WILL BE CLOSED FOR THE 6AM CLASS TODAY!!***
-REMINDER: Free Friday & CFB Social AS WELL AS a baby shower for Coach Lauren & Coach Sarah will be TOMORROW. There is a sign-up sheet on the front desk for anyone planning to attend. Both Lauren & Sarah are registered at Target & Amazon.
Be sure to come and bring a box of diapers for a diaper raffle! Along with the fun and games we will be giving away some awesome prizes for the raffle as well as a game or two!
Bring some Diapers your appetite and your funny bones! See you and your friends on Friday!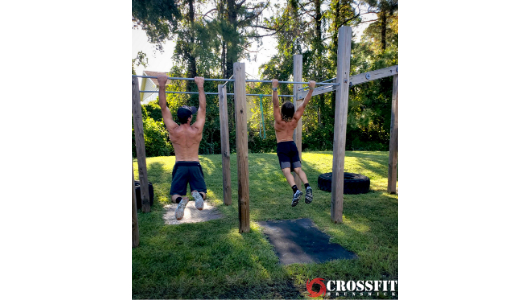 Team work makes the dream work! #partnerwods #travisandsal #workoutwithfriends #friendlycompetition #crossfitbrunswick
Warm-up
20min for Warm-up & Mobility
"Roxanne"
Then, all the stretching
Bottom Squat Hold, 1min

Couch Stretch, 1min/side

Groiner Stretch, 1min/side

Pigeon Stretch, 1min/side

Dragon Stretch, 1min/side

Bottom Squat Hold, 1min
Then, 5reps each w/empty barbell or PVC

Tall Muscle Clean

High-Hang Muscle Clean

Low-Hang Muscle Clean

Pause Front Squats

High-Hang Power Clean

Low-Hang Power Clean

Mid-Shin Power Clean

Low-Hang Squats Cleans
Warm-up for Today's Metcon
Metcon
Metcon (Time)
Partner Relay For Time, 20min Cap:

1-to-10-to-1

Deadlifts 95/65(+135/95)

Hang Squat Cleans 95/65 (+135/95)

Bar-Facing Burpee
*Barbell weight increases EVERY 5MIN:

5min mark, to 135/95 (+155/105)

10min mark, to 155/105 (+185/125)

15min mark, to 185/125 (225/155)
-if unable to Squat Clean, athletes may scale with a Power Clean +Front Squat for each rep.

-Partners will TAG & SWAP each complete round.
Accessory
Post WOD, we will cooldown with coach led Wrist/Forearm & Lat Mobility.