Posted by
James Colson
on Aug 9, 2017 in
WODs
|
0 comments
CrossFit Brunswick – CrossFit
Box News: M/F Partner Throwdown THIS SATURDAY at 9:30AM! We will be hosting another get together/partner comp with CF SSI, everyone is invited and encourage to join!
The CFB Handtowels are in!
Free Friday this month will be next Friday the 18th.
Chris's farewell WOD will be on Saturday the 19th @ 9am!
CFB will be hosting the Garage Games World Wide WOD on September 9th!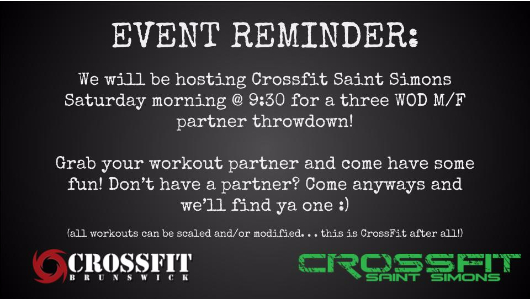 #partnerwods #community #cfssi #cfb

Warm-up
10min for Warm-up, Mobility, & Instruction

Alt Tabata (3 Rounds each)

WBS

Wall Squat Therapy
Mobility: T-Spine Extensions + any

Snatch Specific mobility.
Warm-up Snatch

Strength
30min of Snatch Work

-Take plenty of time today to build towards a heavy single.

-Start light and hit perfect singles.

-Do multiple singles at the same weight if needed.

-Increase weight slowly, by feel, saving the +90%/1RM

attempts for the last 10min.

-If you are still new to the snatch, do not worry about

how much weight is on the bar. Instead, focus on

practicing smooth technique with a comfortable weight.

Snatch (30min to build to a heavy single)
-Stay below 70% for the 1st 10min.

-Build to 90% in the 2nd 10min.

-Use last 10min for 1RM attempts

Metcon
Metcon (AMRAP – Reps)
7min AMRAP:

Power Snatches 75/55 (+115/80)

*Workout begins with 7 WBS 20/14, followed by 7 more EMOM for the remainder.

Extra Credit
Strength/Accessory: Accumulate 5min Pallof Press

Skill/Conditioning: 4 x 500m Row, 1:1 Rest

Mobility: Bar Smash Lats