Posted by
James Colson
on May 9, 2018 in
WODs
|
0 comments
CrossFit Brunswick – CrossFit
Box News:
-Free Friday & Social will be Friday May 18th!
-We will be doing a Beach WOD Day May 19th!! We will be meeting at the Coast Guard Station at East Beach at 9AM!
-Our next 6-Week Nutrition Challenge will be starting on Saturday May 26th! Going with a team challenge this time! (Email with details coming soon!)
-Memorial Day Murph will be Monday, May 28th at 10AM!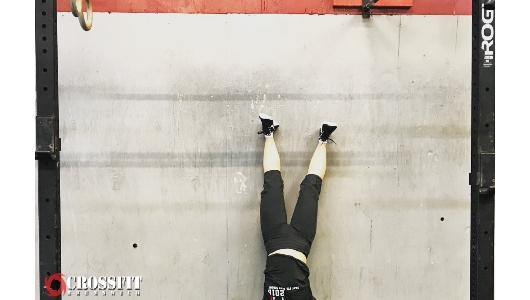 Turn that frown UPSIDE DOWN it's almost FRIDAY! Getting a little gymnasty today! Can anyone guess this athlete!? #guesswho #gymnasty #traingymnastics #buildthecore
Warm-up
10min for Warm-up, Mobility, & Instruction
~5min Coach's Choice Game!
~5min Coach's Choice Shoulder Mobility
Review Head & Hand Stands
Skill Work
Today we will spend ~10min working on Headstands/Handstands & Strict Pull-ups.

Every 2min for 10min

5-7 Strict Pull-ups

30sec Head/Handstand Hold
Strict Pull-ups (5 x 5-7)
-Scale UP by adding weight, Scale DOWN by adding bands (or partner assist)

-Scale accordingly to maintain 5-7 reps each Round

-On your final set, go for Max UNBROKEN Reps
Handstand Hold (5 x 30sec)
Max Effort Hold for time
-Focus on keeping core tight (butt off the wall)

-Scale Down with Headstands.

-Go for a max effort hold on your last set (score in seconds)
Metcon
Metcon (AMRAP – Rounds and Reps)
30min Partner Relay:

10 Pull-ups

20 Push-ups

30 Air Squats

400m Run
Rx+: Both partners wear a weighted vest, 20/14#.
Partner 1 will do 10 Pull-ups, then tag partner 2

Partner 2 will do 10 Pull-ups, then tag partner 1.

Partner 1 will do 20 Push-ups, then tag partner 2…..

so and and so forth for total rounds and reps
Extra Credit
Strength/Accessory: 50/50 GHD Sit-ups/Hip Ext

Skill/Conditioning: 10min EMOM, 10 Alt DB Hang C&J

Mobility: Athlete's Choice Shoulders, 3min