Posted by
James Colson
on May 11, 2018 in
WODs
|
0 comments
CrossFit Brunswick – CrossFit
Box News:
-Free Friday & Social will be Next Friday May 18th!
-We will be doing a Beach WOD Day May 19th!! We will be meeting at the Coast Guard Station at East Beach at 9AM!
-Our next 6-Week Nutrition Challenge will be starting on Saturday May 26th! Going with a team challenge this time! (Let a coach know if you did not receive the explanation email)
-Memorial Day Murph will be Monday, May 28th at 10AM!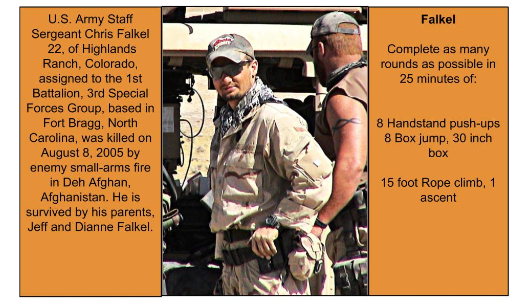 #herowodsaturday #honorthyheroes #honorthefallen #RIP
Warm-up
15min for WOD Explanation & Athlete's Choice Warm-up
Metcon
Falkel (AMRAP – Rounds and Reps)
25-Minute AMRAP of:

8 Handstand push-ups

8 Box Jump, 30″

1 Rope Climb, 15′
In honor of U.S. Army Staff Sergeant Chris Falkel, 22, of Highlands Ranch, Colorado, was killed on August 8, 2005
To learn more about Falkel click here