CrossFit Brunswick – CrossFit
-Happy October CrossFitFam! This month we are having our Free Friday & CFB Social AS WELL AS a baby shower for Coach Lauren & Coach Sarah on the Friday the 12th. Contact Coach Kansas for details.
-This month we are checking-in to promote breast cancer awareness with #breastcancerawareness.
-There will an email coming out this weekend with IMPORTANT UPDATES AND ANNOUNCEMENTS.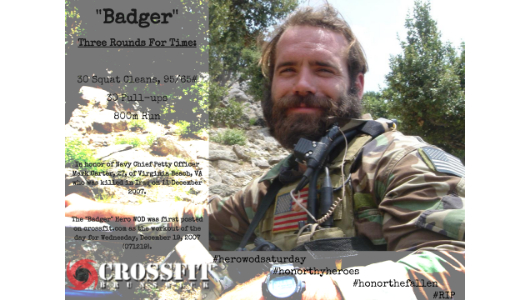 #herowodsaturday #honorthyheroes #honorthefallen #RIP
Warm-up
15min for WOD Explanation & Athlete's Choice Warm-up
Metcon
Badger (Time)
Three Rounds for time of:

30 'Squat' Cleans, 95#

30 Pull-ups

Run 800 meters
In honor of Navy Chief Petty Officer Mark Carter, 27, of Virginia Beach, VA who was killed in Iraq 11 December 2007.
To learn more about Badger click here