Posted by
James Colson
on Jan 5, 2018 in
WODs
|
0 comments
CrossFit Brunswick – CrossFit
Box News: 6 Week Nutrition Challenge Starts TODAY! We will do a benchmark HeroWOD @ 9am like usual, followed by any preliminary testing/measurements you want taken, and the 1st Nutrition Lecture will start at 10am!
Next Tuesday the 9th, we will be hosting a 'Pamper Event' from Wellman Family Healthcare from 4-6pm. Sign-up sheets are on the counter to reserve your free 15min massage! LIMITED SPOTS AVAILABLE!
Free Friday and CFB Social this month will be on Friday the 19th.
Second Nutritional Lecture will be Saturday the 20th at 10am.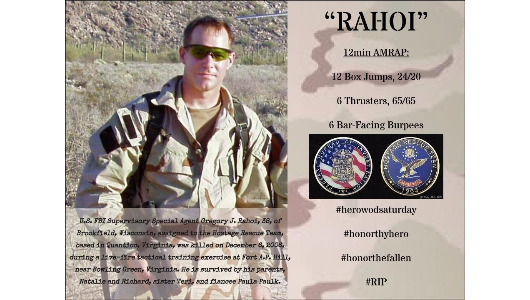 #herwodsaturday #honorthyheroes #honorthefallen #RIP

Warm-up
15min for WOD Explanation & Athlete's Choice Warm-up

Metcon
Rahoi (AMRAP – Rounds and Reps)
12-Minute AMRAP of:

12 Box Jumps, 24″

6 Thrusters, 95#

6 Bar Facing Burpees
In honor of U.S. FBI Supervisory Special Agent Gregory J. Rahoi, 38, of Brookfield, Wisconsin, was killed on December 6, 2006
To learn more about Rahoi click here

Extra Credit
20 min Row (Distance)