CrossFit Brunswick – CrossFit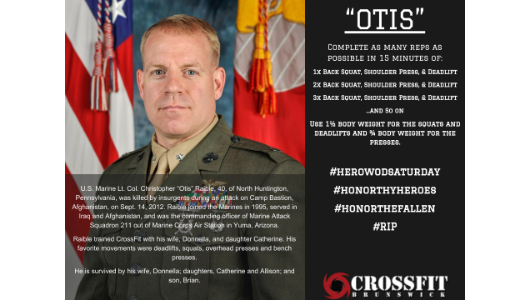 #herowodsaturday #honorthyheroes #honorthefallen #RIP
Warm-up
20min for WOD Explanation & Athlete's Choice Warm-up
-Take your time warming up all three barbell movements today.
Metcon
Otis (AMRAP – Reps)
Complete as many reps as possible in 15 minutes of:

1 back squat, 1 shoulder press, 1 deadlift

2 back squats, 2 shoulder presses, 2 deadlifts

3 back squats, 3 shoulder presses, 3 deadlifts

Etc.
Use 1½ body weight for the squats and deadlifts and ¾ body weight for the presses.
Im memory of, U.S. Marine Lt. Col. Christopher "Otis" Raible, 40, of North Huntington, Pennsylvania
To learn more about Otis click here
-Scale down with light weight selection. For ex:

Bodyweight for Back Squat & Deadlifts, 1/2 Bodweight for Shoulder Press.