CrossFit Brunswick – CrossFit
-Please excuse the mess… we are remodeling the area behind the desk!
-BOLO: A Blue-handled Rogue Speed Rope has gone missing. If found please turn it in to a coach!
-This month's Free Friday & Social will be NEXT Friday the 17th!!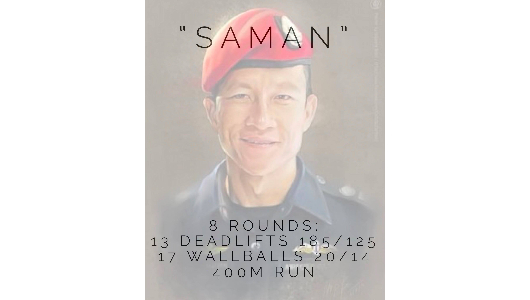 #herowodsaturday #honorthyheroes #honorthefallen #RIP
Warm-up
10min for WOD Explanation & Athlete's Choice Warm-up
Metcon
"Saman" (Time)
8 Rounds For Time:

13 Deadlifts, 185/125

17 WallBall Shots, 20/14

400m Run
-In Honor of Thai Navy Seal Saman Kunan who lost his life during a mission to save 12 children and their soccer coach who were trapped in a cave for 18 day. Rest in Peace Brave Warrior.