Posted by
James Colson
on May 4, 2018 in
WODs
|
0 comments
CrossFit Brunswick – CrossFit
Box News:
-New Sweatangels Charity this month! Check-in with #guidingeyes to donate food for guide dogs in training!
-Free Friday & Social will be Friday May 18th!
-We will be doing a Beach WOD Day May 19th!! Details coming soon…
-Memorial Day Murph will be Monday, May 28th at 10AM!
-Our next 6-Week Nutrition Challenge will be starting soon as well! This time around you are going to need some teammates to join in on the fun!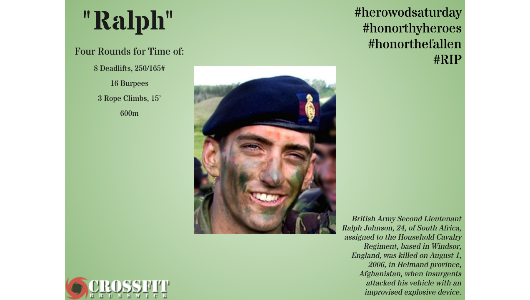 #herowodsaturday #honorthyheroes #honorthefallen #RIP
Warm-up
15min for WOD Explanation & Athlete's Choice Warm-up
Metcon
Ralph (Time)
4 Rounds for time of:

8 Deadlifts, 250#

16 Burpees

3 Rope Climbs, 15′

600m Run
In honor of British Army Second Lieutenant Ralph Johnson, 24, of South Africa, was killed on August 1, 2006
To learn more about Ralph click here