CrossFit Brunswick – CrossFit
Box News: Free Friday and CFB Social this Friday the 19th, so get your friends ready!
Second Nutritional Lecture will be this Saturday the 20th at 10am.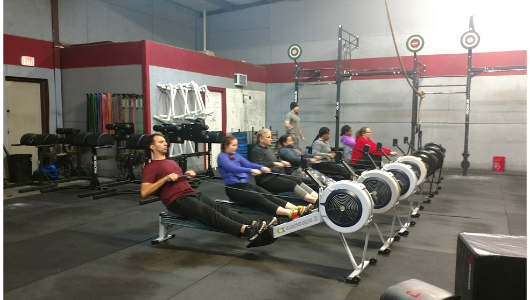 6 Week Challenge Intro class 1, round 2. Keep up the great work guys! #6weekchallenge #newbies #crossfitbrunswick #rowing

Warm-up
10min for Warm-up, Mobility, & Instruction
60′ High Knees

60′ Butt Kickers

60′ Walking Samson Stretch

60′ Walking Groiner Stretch

60′ Banded Glute Activation (forward)

60′ Banded Glute Activation (backward)
Then, Mobility:

2min Rig Squats
Warm-up Back Squats

Strength
Back Squat (10 x 5)
-1 set of 5 reps every 90sec for 15min (10sets)

-Use first 5 sets to warm-up to today's working weight, 70-75%1RM.

-Perform last 5 sets at same weight.

-Practice/warm-up Box Jump-Overs between sets.

Metcon
Metcon (3 Rounds for reps)
Three 5min Rounds for Reps:
0:00-5:00

30cal Row

30 Box Jump-Overs 24/20

30 Burpee to 6″
5:00-10:00 REST
10:00-15:00

30 Box Jump-Overs 24/20

30 Burpee to 6″

30cal Row
15:00-20:00 REST
20:00-25:00

30 Burpee to 6″

30cal Row

30 Box Jump-Overs 24/20

Extra Credit
Strength/Accessory: 5 x 8-10 DB Bicep Curls

Skill/Conditioning: 5 x ME HS Hold

Mobility: Banded Ankles, 3min/side