CrossFit Brunswick – CrossFit
-The Free Friday & CFB Social will be THIS Friday the 21st! Bring a friend to any class on Friday for a FREE partner workout! CFB Social to follow the 6:15 class!!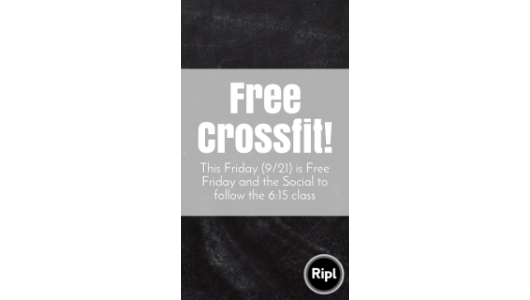 Did someone say FREE CROSSFIT? That's right! Free Friday is this week and any class is free with a social following the last class! #freefriday #friyay #thesocialishere #crossfitbrunswick

Warm-up
15min for Warm-up, Mobility, & Instruction
3sets For Quality:

10 High-Hang Muscle Snatch w/PVC

10 Wall Squat Therapy w/PVC
Then, Mobility:

PVC Shoulders, ~2min

T-Spine Extension, ~2min
Then, w/ empty barbell:

5 High-Hang Power Snatch + 1 OHS

5 Low-Hang Power Snatch +1 OHS

5 Mid-Shin Power Snatch +1 OHS

5 Low-Hang Squat Snatch

5 Mid-Shin Squat Snatch
Warm-up Squat Snatch to ~60%1RM

Strength
Snatch (12 x 1 + 1)
-1 Snatch + 1 OHS
-1rep EMOM for 5min (5sets) @ 60-65%

1min Rest

1rep every 90sec for 6min (4 sets) @ 70-75%

-1min Rest

1rep every 2min for 6min (3reps) @ 80-85%
-only use 1 weight for each wave
-Focusing on our "Squat Snatch" technique today. If unable to squat snatch your opening rep, then focus on pausing in the landing position then lowering yourself below parallel.
-Try and not move your feet between the snatch and the OHS.

Metcon
Metcon (3 Rounds for weight)
Three 3min AMRAPs for Weight:
5 Bar-Facing Burpees

1 OHS*
3min REST between Rounds
*Athletes will choose their weight on this metcon. Score for each round will be weight on the barbell times reps completed.

Extra Credit
Strength/Accessory: 5 x 10 DB Bicep Curls AHAP

Skill/Conditioning: 4 x 400m Runs, 2min Rest between runs

Mobility: Bow & Arrows Stretch, 3min/side