CrossFit Brunswick – CrossFit
Box News:
-Summer Tank Tops are available for pre-order! Pre-orders are due by Thursday!!
-Our next 6-Week Nutrition Challenge will be starting on THIS Saturday May 26th! Going with a team challenge this time! Grab your teammates and sign-up at the front desk!
-Memorial Day Murph will be Monday, May 28th at 10AM!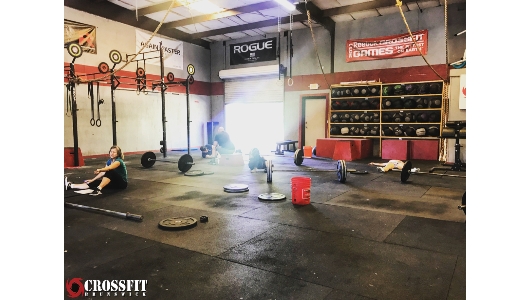 "We don't fail from getting knocked down, we fail from not getting back up." -unknown // A little Monday Motivation for ya. Just get back up and keep breathing. #mondaymotivation #postwodstarfish #theydead #hurtssogood

Warm-up
12min for Warm-up, Mobility, & Instruction
60′ High Knees

60′ Butt Kickers

10 Air Squats

60′ Walking Samson Stretch

60′ Walking Groiner Stretch

10 Jump Squats

60′ Banded Glute Activation

60′ Banded Glute Activation
Then, Mobility

Rig Squats,~2min
Review & Warm-up Back Squats

Strength
Back Squat (10 x 5)
-1 set of 5 reps every 2min for 20min (10 sets)

-Use first 5 sets to work up to your working weight for today, ~70-75%1RM.

-Last 5 sets are all at the same weight.

-On your FINAL set, do as many reps as possible with good form (aim for 10+)

-Perform 8-10 alt DB Snatches between sets

Metcon
Metcon (Time)
For Time, 18min Cap:

3 Rounds of:

10 Front Squat 95/65 (+135/95)

10 Bar-Facing Burpees
Then, 2 Rounds of

10 Front Squat 135/95 (+155/105)

10 Bar-Facing Burpees
Then, 1 Round of:

10 Front Squat 155/105 (+185/125)

10 Bar-Facing Burpees

Extra Credit
Strength/Accessory: 5 x 8-10 GHRs

Skill/Conditioning: 1mile Walk/Jog, 400m Intervals.

Mobility: Bar Smash/Foam Roll quads