CrossFit Brunswick – CrossFit
-WELCOME to all our new athletes that are beginning their 21-Day Challenge tonight!!
-This week is Free Friday! Bring a friend to any class this Friday for free! CFB Social following our 6:15 class (and a showing of CrossFit's The Redeemed& The Dominant!!)
-REMINDER: In an effort to get us closer to our Big Ass Fan, we will be putting the proceeds from ALL WATER SALES into the Big Ass Fan Fund this month!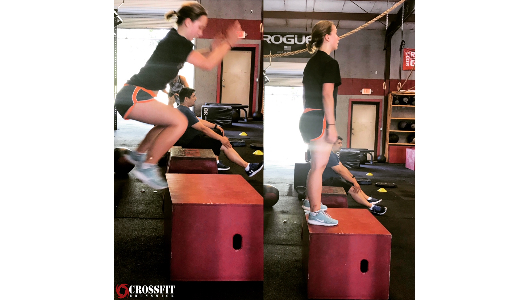 Shout out to all those athletes trying out and CONQUERING new movements! Heidi has been successfully landing these 20″ jumps in wods and we all know how box jumps can be! #strategizetoconquer #defeatyourfears #boxjumps #heyheidi #cfb

Warm-up
15min for Warm-up, Mobility, & Instruction
2 Rounds w/ Partner

40sec MB Hot Potato

20sec REST

40sec MB Clean & Shoot (for Height)

20sec REST
Then, Mobility

Banded Shoulder/Tricep Stretch, 1min/side

Bow & Arrow Stretch, 1min/side
Then, 5 reps each w/empty barbell

Hang Power Clean

Elbow Rotations

Good Mornings

Shoulder Press
Review & Warm-up Shoulder Press to ~55%1RM

Strength
Shoulder Press (10-10-10-8-8-8-6-6-6)
-20min Cap, ~2min set.

10 @ 55%

10 @ 60%

10 @ 65%
8 @ 60%

8 @ 65%

8 @ 70%
6 @ 65%

6 @ 70%

6 @ 75%
-From the Floor.

-If unable to complete a set at the given weight, FINISH the set with Push Presses and decrease weight on the next set.

Metcon
Metcon (AMRAP – Rounds and Reps)
12min AMRAP:

3 Burpee Chest-to-Bar Pull-ups (+ 3 Bar MU)

6 Hang Cleans 75/55 (+115/80)

9 Toes-to-bar

12 Shoulder-to-OH 75/55 (+115/80)

Extra Credit
Strength/Accessory: 5 x 8-10 at DB Renegade Rows

Skill/Conditioning: 1mile Run, for time.

Mobility: Foam Roll/Bar Smash Lats