Posted by
James Colson
on Dec 3, 2017 in
WODs
|
0 comments
CrossFit Brunswick – CrossFit
Box News: New Month, New Hashtag! Use #books4kids to help support Toys for Tots!!
This Month's Free Friday will be the 15th. NO SOCIAL (see below)
Kate & Al will be hosting our Christmas Party this year on Saturday the 16th! More details to come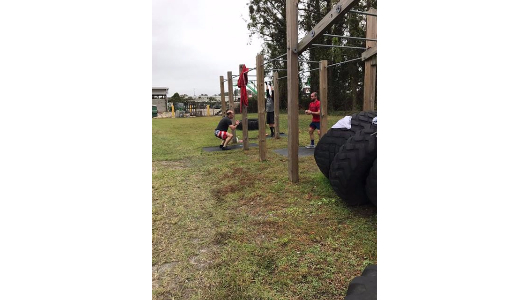 James Mike and Rhett killing Murph on veterans day #mcm #Murph #killinit
Warm-up
20min for Warm-up, Mobility, & Instruction.
Slow 10min AMRAP

200m Row

15 Air Squats

10 Band Pull-Aparts

5 Pull-ups
Mobility:

Banded Shoulder/Tricep Stretch, 1min/side

Banded Ankles, 1min/side

Rig Squats, 2min
Warm-up Paused Front Squats
Strength
Paused Front Squat (10 x 2)
-1 set of 2 reps every 2min for 20min (10 rounds)

-Start light and build across all 10 sets for a heavy double.

-2 SEC HOLD IN THE BOTTOM POSITION.

-Do 3-5 barbell thrusters or pull-ups between sets
Metcon
Jackie (Time)
For Time:

1000m Row

50 Thrusters, 45#

30 Pull-ups
-15min Cap
Extra Credit
Strength/Accessory: 50/50 GHD Sit-ups/Hip Ext

Skill/Conditioning: 800m Walk/Run, 100m Intervals

Mobility: T-Spine Ext., 5min