Posted by
James Colson
on Nov 12, 2017 in
WODs
|
0 comments
CrossFit Brunswick – CrossFit
Box News: Free Friday and CFB Social THIS FRIDAY!
Happy WODsgving Competition at CF Grit this Saturday, November 18th.
3rd Annual "Gobbler Gut Buster" Partner WOD, Black Friday, November 24th @ 9am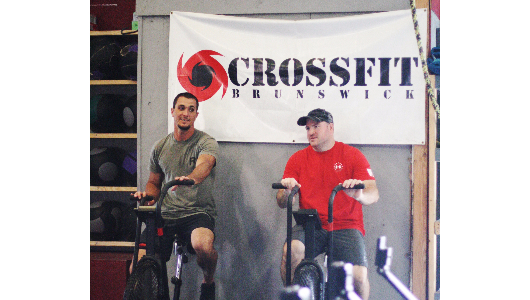 Athletes Travis and Josh relaxing on the assault bikes before the WOD

Warm-up
10min for Warm-up, Mobility, & Instruction.
400m Run or 500m Row
Then, 5 reps each w/ an empty barbell

Deadlift

Hang Power Clean

Elbow Rotations

Back Squat

Elbow Rotations

Push Press

Push Jerk
Mobility:

PVC Shoulders if they aren't warm, otherwise

Wrist Mobility, ~2min
Warm-up today's Complex

Strength
Push Jerk (10 x 1)
-3 Deadlifts + 2 Hang Power Cleans + 1 Push Jerk

-1 set of the complex every 2min for 16min (8sets).

-Start light and build to a HEAVY but UNBROKEN set of the complex.

Metcon
Metcon (AMRAP – Rounds and Reps)
20min AMRAP:

400m Run

12 Deadlifts

9 Hang Power Cleans

6 Push Jerks

Rx: 115/80 Rx+: 155/105
-Choose a weight that you can do for unbroken sets on the hang power clean portion of the WOD.

Extra Credit
Strength/Accessory: 50+50 GHD Sit-ups/Hip Ext

Skill/Conditioning: 10min EMOM of 25-30 DU

Mobility: 5min of T-spine Extensions