Posted by
James Colson
on Oct 8, 2017 in
WODs
|
0 comments
CrossFit Brunswick – CrossFit
Box News: Our new Baseball Tees are available for pre-order. Be sure and put your order in by Friday!
The Free Friday & CFB Social will be on the 20th.
Halloween Party at Daniel & Danielle's on Saturday the 21th.
Veteran's Day Murph, Saturday November 11th.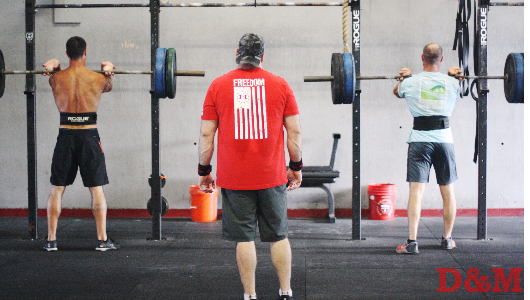 #MCM #freedom

Warm-up
15min for Warm-up, Mobility, & Instruction
6min Alt EMOM

40sec 'slow' Row + High Plank Hold

20sec Rest & Rotate

40sec 'moderate' Row + Bottom Squat Hold

20sec Rest & Rotate

40sec 'fast' Row + PVC Shoulders

20sec Rest & Rotate
Then, with an empty Barbell

5 Hang Power Cleans

5 Front Squats

5 Elbow Rotations

5 Back Squats

5 Good Mornings
Mobility:

Dragon Stetch, 1min/side
Warm-up Cleans

Strength
Clean Complex (10 x 1)
1 x Clean

1 x Hang Clean
-15min to build to a heavy set of the complex

-Practice/warm-up pistols between sets

Metcon
Metcon (Time)
3 Rounds for time, 20min Cap:

30 Cal Row

25 Hang Power Cleans 95/65

20 alt Pistols
-Add any remaining reps to the timecap in seconds.

Extra Credit
Strength/Accessory: 5 x 10 Goblet squat-10sec decent, 10sec hold at the bottom.

Skill/Conditioning: 10min EMOM, 10sec Assault Bike Sprint

Mobility: Banded Ankles, 2min/side