CrossFit Brunswick – CrossFit
-New Month, New Hashtag! Check-in with #togethercuringcancer to support pediatric cancer research!
-The Free Friday & CFB Social will be Friday the 21st!
-Don't forget to place your Driven Supplements order by Tuesday!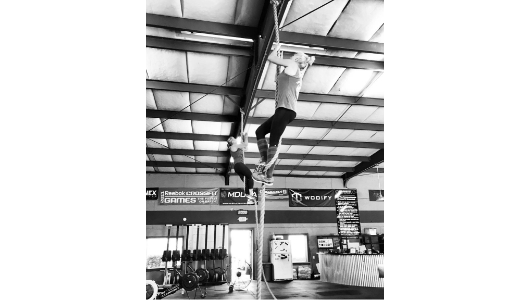 Climbing all over Monday like…. #ropeclimbs #crossfitbrunswick
Warm-up
20min for Warm-up, Mobility, & Instruction
3 Rounds

20sec KBS

10sec Rest

20sec Goblet Squats

10sec Rest

20sec AMSU

10sec Rest
Then, Moblity

PVC Shoulders, ~2min

Rig Squats,~2min
Then, 5reps each with empty barbell or PVC

High-Hang Muscle Cleans

Low-Hang Muscle Cleans

Front Squats

Low-Hang Power Cleans

Mid-Shin Power Cleans

Front Squats
Warm-up Hang Cleans to ~50% 1RM Clean.
Strength
Today's Complex:

1 Power Clean

1 Hang 'Squat' Clean
Hang Clean (12 x 1)
-1 set of the complex every 90sec for 18min (12sets)

-Start at ~50% 1RM Clean and increase by ~10% every 3 sets. Final 3 sets should be ~80%.
-If unable to "Hang Squat Clean" the weight, then Hang Power Clean, pause in your landing position, then lower yourself below parallel.
Metcon
Metcon (Time)
3 Rounds For Time, 10min Cap:

20 WBS 20/14

200m Run w/MB
Extra Credit
Strength/Accessory: 5 x 10 Barbell Bicep Curls AHAP

Skill/Conditioning: 10min EMOM, 30 DU's

Mobility: Foam Roll/ Bar Smash Legs