CrossFit Brunswick – CrossFit
-BOLO: A Blue-handled Rogue Speed Rope has gone missing. If found please turn it in to a coach!
-This month's Free Friday & Social will be NEXT Friday the 17th!!
-Don't forget to place your order for you Driven Supplements today!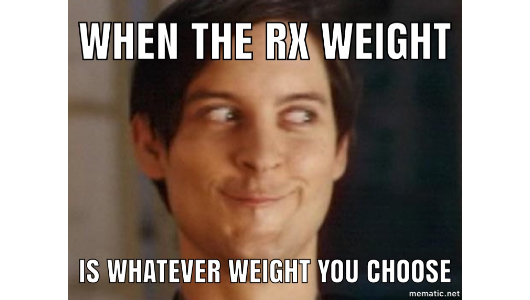 Who else loves getting to choose their weight for WODs? However, this means YOU determine the pain inflicted.. which do you choose? #goheavyalways #golight #stayinthemiddle #cfb
Warm-up
15min for Warm-up, Mobility, & Instruction
Slow 4min AMRAP:

30′ High Knees

30′ Butt Kickers

10 WBS

30′ Walking Samson Stretch

30′ Soldier March

10 AMSU
Then, Mobility

Couch Stretch, 1min/side

T-spine Extension, ~2min
Then, 5 Reps each with PVC or empty bar:

High Hang Muscle Clean

Low Hang Muscle Clean

Front Squat

Push Press

Low Hang Power Clean

Mid-Shin Power Clean

Front Squat
Warm-up & Review Today's Clean Skillwork
Strength
Clean + F. Squat + Jerk Complex (6 x 1 + 1 + 1)
1x Clean +

1x Front Squat +

1x Jerk
-1 set of 1 Power Clean (with 2 sec pause) + 1 Front Squat + 1 Jerk every 90sec for 9min (6 sets)
-Will do 1 Power Clean, holding the catch position 2 sec, then descend into an Front Squat, then Jerk the weight overhead.
-Start around 50% 1RM and build slowly by feel.
Clean and Jerk (6 x 1 + 1)
-Do 1 'Squat' Clean & Jerk every 90sec for 9min (6 sets) building to a heavy but perfect single.
-The goal is to land LOW but solid. Aim for below parallel.
-If you can no longer jerk the weight, continue to focus on the squat clean.
Metcon
Metcon (Weight)
9min AMRAP for weight:

12 Alt Lunges w/MB, 20/14

9 WBS, 20/14

3 Front Squat*
*athletes may choose their own weight for front squats.
-Score will be weight used times Front Squats completed.
Extra Credit
Strength/Accessory: 60 GHD Sit-ups in as few sets as possible.

Skill/Conditioning: Death-By Strict HSPU

Mobility: Foam Roll/ Bar Smash Legs