Posted by
James Colson
on May 14, 2017 in
WODs
|
0 comments
CrossFit Brunswick – CrossFit
Box News: Free Friday this week! Bring a friend by to any class on Friday for Free! CFB Social at 7:15pm!
Memorial Day Murph coming up on the 29th.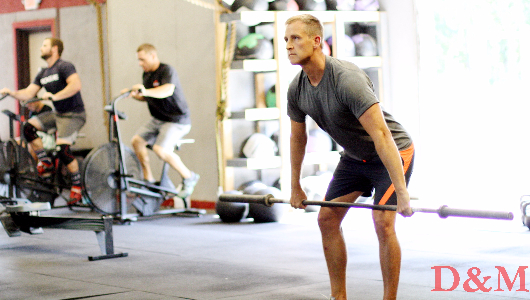 Jim warming up. #MCM

Warm-up
30min for Warm-up & WOD Prep:

200m Run

10 High-Hang Power Cleans

200m Run

10 Low-Hang Power Cleans

200m Run

10 Mid-Shin Power Cleans
Mobilize

Banded Shoulder/Tricep Stretch 2min/side
Warm-up Power Cleans

WOD Prep
Power Clean (5 x 3)
-Build across 5 sets as heavy as desired focusing on smooth, good looking triples.

-5 Push-ups & Air Squats after each set.

Metcon
Metcon (Time)
5 Rounds, 25min Cap:

9 Power Cleans 135/95

15 Push-ups

21 Air Squats

200m Run

Extra Credit
Strength: 5 x 5 Pause Front Squat

Core: 5 x 10 alt Dumbbell Squat Press

Conditioning: 3 x 200m Sprint