CrossFit Brunswick – CrossFit
-REMINDER: Free Friday & CFB Social AS WELL AS a baby shower for Coach Lauren & Coach Sarah will be THIS FRIDAY. There is a sign-up sheet on the front desk for anyone planning to attend. Both Lauren & Sarah are registered at Target & Amazon.
Be sure to come and bring a box of diapers for a diaper raffle! Along with the fun and games we will be giving away some awesome prizes for the raffle as well as a game or two!
Bring some Diapers your appetite and your funny bones! See you and your friends TONIGHT!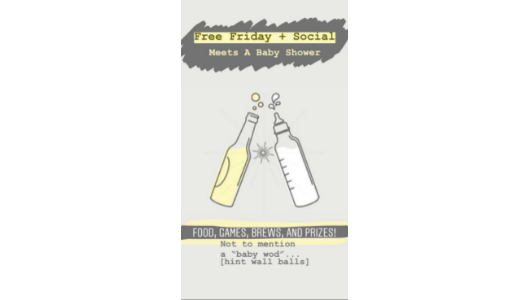 Free Friday! CFB Social! And a Baby Shower! Lots to celebrate and fun WILL be had! #bethere #orbesquare #brewsandbottles #babiesandbarbells #crossfitbrunswick
Warm-up
Coach's choice Five minute Game

Coach's choice five minutes of mobility
Strength
Weighted Pull-ups (5 x 3)
-1 set of 3 reps every 2min for 10min (5sets)

-Build to a 3RM

-Scale by finding the lightest band possible for 3reps or bodyweight.
Metcon
Metcon (Time)
Four Rounds For Time, 25min Cap:

400m Run w/MB 20/14

20 Alt Lunges w/MB 20/14

10 Box Step-ups w/MB 20/14

***MB must be held in front***
RX+: 10 Burpee Penalty for dropping or resting the MB out of the front position.
Extra Credit