CrossFit Brunswick – CrossFit
-WEATHER ALERT: We are keeping a close eye on Hurricane Florence. There are currently no plans to alter our current schedule, but we will everyone know if that changes!!
-The Free Friday & CFB Social will be NEXT Friday the 21st!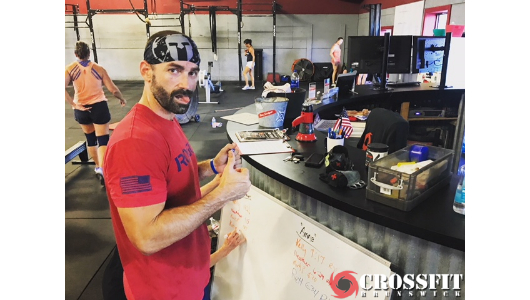 Thumbs up or bicep flex? Either way, definitely weekend ready. #flexrettflex #friyay #weekendready #crossfitbrunswick
Warm-up
20min for Warm-up, Mobility, & Instruction
3 Rounds

20sec Wall Squat Therapy w/PVC

10sec REST

20sec Duck Walk w/PVC

10sec REST

20sec Behind- the-Neck (BTN) Push/Split Jerk w/PVC

10sec REST
Then, Mobility

T-Spine Extensions ~2min

Foam Roll Lats, 1min/side

Rig Squats, ~2min
Then, 5 reps each w/Barbell

Snatch Deadlift

Snatch Pull

Snatch High Pull

Power Snatch

Overhead Squat
Review and Warm-up OHS from the Floor
Strength
Overhead Squat (5 x 3)
-1 set of 3 reps every 3min for 15min (5 sets)

-From the Floor

-3 SECOND PAUSE IN THE BOTTOM POSITION

-Start light and work up to a heavy triple.

-After each set, immediately do 5 Snatch Deadlifts at the same weight.
Snatch Grip Deadlift (5 x 5)
-Same weight as OHS
Metcon
Nancy (Time)
5 Rounds for time of:
400m Run
15 Overhead Squats, 95# / 65#
-20min Cap
Extra Credit
Strength/Accessory: 5 x ME WIDE GRIP Pull-ups

Skill/Conditioning: 50 Bar-Facing Burpees for Time

Mobility: Lax Ball to Shins/Feet