Posted by
James Colson
on Aug 10, 2017 in
WODs
|
0 comments
CrossFit Brunswick – CrossFit
Box News: M/F Partner Throwdown TOMORROW at 9:30AM! We will be hosting another get together/partner comp with CF SSI, everyone is invited and encourage to join!
The CFB Handtowels are in!
Free Friday this month will be next Friday the 18th.
Chris's farewell WOD will be on Saturday the 19th @ 9am!
CFB will be hosting the Garage Games World Wide WOD on September 9th!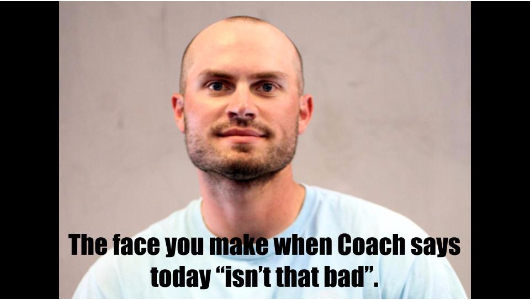 Warm-up
15min for Warm-up, Mobility, & Instruction
6min Alt EMOM,

1min DU Practice

1min 1 & 1/4 Air Squats

1min Band Pull Aparts
Mobility:

Dragon Stretch 1min/side

Partner Front Rack Stretch 1min/side
Warm-up 1 & 1/4 Front Squats

Strength
Five 3min Rounds of:

2- 1 & 1/4 Front Squats, working on heavy but full range-of-motion doubles.

5- Pull-ups or Progressions

10- Double-unders, 30 singles, or DU

1 & 1/4 Front Squat (5 x 2)
From the Floor
-Focus on getting DEEP while maintaining an upright torso and high elbows throughout.

Metcon
Metcon (Time)
3 Rounds for Time, 20min Cap:

10 Front Squats 155/105 (+185/125)

20 Pull-ups (+C2B)

50 Double Unders (+UB)

Extra Credit
Strength/Accessory: 50+50 GHD Sit-ups + Hip Ext

Skill/Conditioning: 10 x 5 Kipping Toes-to-Bar

Mobility: Couch Stretch, 3min/side