CrossFit Brunswick – CrossFit
-Please excuse the mess… we are remodeling the area behind the desk!
-BOLO: A Blue-handled Rogue Speed Rope has gone missing. If found please turn it in to a coach!
-This month's Free Friday & Social will be NEXT Friday the 17th!!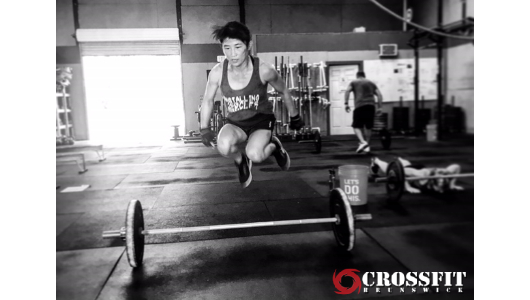 Ready to fly into the weekend! Who else is ready for it?? #wesayjump #shesaysfly #letsgo #Friyay #heyMisuk #crossfitbrunswick
Warm-up
15min for Warm-up, Mobility, & Instruction
4min AMRAP, all w/PVC

10 Wall Squat Therapy

30′ Walking Samson Stretch

10 Snatch Balance

30′ Duck Walk
Then, Mobility

Banded Shoulders ~2min

T-Spine Extensions, ~2min
Then, Review and Warm-up with 5 Reps each w/empty barbell
Snatch Deadlift

Hang Snatch Pull

Hang Snatch High Pull

Hang Power Snatch

Over Head Squat

Hang Squat Snatch
Strength
Snatch Pull Complex (12 x 1)
1 Snatch Deadlift +

1 Hang Snatch Pull +

1 Hang Snatch High-pull +

1 Hang Snatch
-1 set of the complex every 90sec for 18min

-Start at ~50%1RM Snatch, and increase weight by 5-10% every FOUR sets.

-Really focus on your pulling positions, getting the barbell into the hips, and pulling the elbows high. Do not increase the weight if unable to complete the complex with good mechanics.
Metcon
Amanda (Time)
9-7-5
Muscle-ups
Snatch, 135#/95#
-15min Cap

-RX is RING Muscle-ups

-Scaling Progressing for RMU:

Bar Muscle-ups

Chest-to-Ring Pull-ups

Burpee Chest-to-Bar Pull-ups
Extra Credit
Strength/Accessory: 5 x ME HS Hold

Skill/Conditioning: 1mile Tabata Sprint/Walk (sprint 10, walk 20)

Mobility: Foam Rolls/ Bar Smash Lats