Posted by
James Colson
on Aug 2, 2018 in
WODs
|
0 comments
CrossFit Brunswick – CrossFit
-Don't forget on new Sweat Angels cause this month! Check-in using #giveshoes to help those in need!
-BOLO: A Blue-handled Rogue Speed Rope has gone missing. If found please turn it in to a coach!
-We hope everyone is enjoying the new BAF!! Big thanks to Travis, Rett, Matt, and Coach James for getting it set-up!
-This month's Free Friday & Social will be Friday the 17th!!
-The CrossFit Games have begun! Stay up-to-date on your favorite athletes by checking out https://games.crossfit.com/article/how-watch-2018-games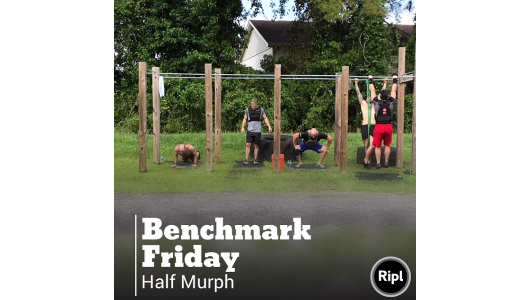 Need we say more? Friday isn't a day you'll want to skip! Heavy front squats and half Murph! #nevermisslegday #heavyskwaats #murph #alwaysafavorite #crossfitbrunswick
Warm-up
10min for Warm-up, Mobility, & Instruction
Slow 3min AMRAP

10 WBS

120′ Jog

10 AMSU

120′ Jog
Then, Mobility (as needed)

Rig Squats
Review and Warm-up Front Squats to ~70%1RM
Strength
Front Squat (3 x 3, 3 x 2, 4 x 1)
-3 reps EMOM for 3min

-2 reps EMOM for 3min

-1 rep EMOM for 4min

-Add weight each round, building to a heavy single.
Metcon
Half Murph (Time)
For Time:

800m Run

50 Pull-ups

100 Push-ups

150 Squats

800m Run

*May partition Pull-ups, Push-ups, and Air Squats as desired.

Rx+: Wear a 20/14# weighed vest.
-30min Cap
Extra Credit
Strength/Accessory: 5 x ME D-Ball Hold

Skill/Conditioning: 10min EMOM, 40sec Jump Rope Practice

Mobility: Lax Ball to ankles/calves