Posted by
James Colson
on Jul 5, 2018 in
WODs
|
0 comments
CrossFit Brunswick – CrossFit
-Freedom Week continues with another classic HeroWOD today!
-New Month, New Charity! This month use #givewater to donate clean drinking water to those in need!
-In an effort to get us closer to our Big Ass Fan, we will be putting the proceeds from ALL WATER SALES into the Big Ass Fan Fund this month!
-Nutrition Challengers!! This Saturday marks the end of your Challenge. Come in at 9am for a benchmark re-test and closing measurements at 10am. Let's see who is bringing home that prize money!
-July's Free Friday & Social will be Friday July 20th.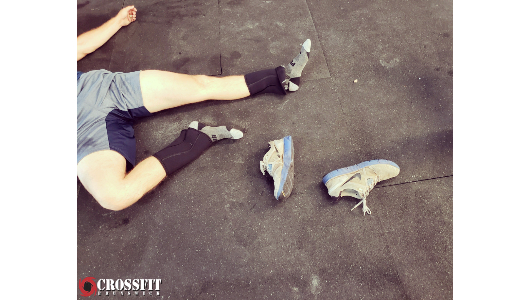 Work so hard, make ya shoes fall off. Who else kicks off their kicks after a wod? This week has been intense! Thanks everyone who has given their all in these workouts this week. #sweatyfeet #letembreathe #herowodsgotuslike #cfb
Warm-up
15min for Warm-up, Mobility, & Instruction
For Quality:

30 Wall Squat Therapy w/PVC
Then, Mobility

T-Spine Ext, 2min

PVC Shoulders, 2min
Then w/empty barbell or PVC

5 Tall Muscle Snatch + 1 OHS

5 High Hang Muscle Snatch + 1 OHS

5 Low Hang Muscle Snatch + 1 OHS

5 Standing Sots Press

5 High Hang Power Snatch + 1 OHS

5 Low Hang Power Snatch + 1 OHS

5 Mid Shin Power Snatch + 1 OHS

5 Power Position Sots Press
Warm-up Snatches
Strength
Snatch (10min EMOM)
-1rep EMOM for 10min (10 sets)

-Start at ~50%1RM and build to a moderately heavy single for the day (Not a 1RM)

-Focus on QUALITY movement today and reinforce all the work we have been putting into our technique!
Metcon
DT (Time)
5 Rounds for time:

12 Deadlifts, 155# / 105#

9 Hang Power Cleans, 155# / 105#

6 Push Jerks, 155# / 105#
In honor of USAF SSgt Timothy P. Davis, 28, who was killed on February, 20 2009
To learn more about DT click here
-20min Cap

-Partner Variation: Partner Leapfrog (must be solo to be Rx)

Partners will swap after each movement.
Extra Credit
Strength/Accessory: 5 x ME Chin-Over-the-Bar Hold

Skill/Conditioning: Assault Bike, 10min at conversational pace

Mobility: Bar Smash/Foam Roll quads