Posted by
James Colson
on May 18, 2017 in
WODs
|
0 comments
CrossFit Brunswick – CrossFit
Box News: Today is FREE FRIDAY! Bring a friend by to any class for free.CFB Social to follow the 6:15 class.
Memorial Day Murph coming up on the 29th.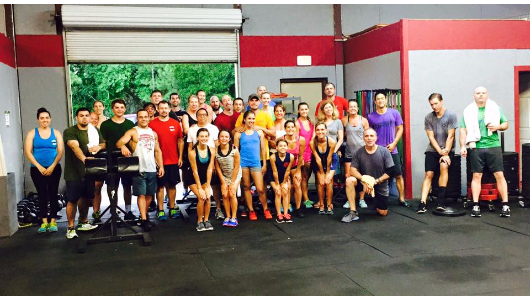 Group pic from one of our first CFB Socials!

Warm-up
25min for Warm-up & WODPrep
Partner Game: "Snatch"
Followed by Coaches choice Mobility

WOD Prep
Spend 15min on

Head/Hand Stands & HSPU Progressions(Strcit, Kipping, Deficit)or HS Walks

Pull-ups Progressions (Strict, Kipping, B-Fly) or MU Progressions

Metcon
Metcon (Time)
Partner WOD

CrossFit Games Regional Event 1

For Time, 25min Cap:

1200m Run (Swapping every 200m)

Then,

12 Rounds (Swapping every full Round)

4 HR Push-ups (+HSPU)

8 Pull-ups (+C2B)

12 Air Squats

-Partners will tag.
-Vest is optional, as is testing this WOD Solo.

Extra Credit
Conditioning: 800m Walk/Run, 200m Intervals

Core: 800m Weighted Walk

Strength/Skill: 3 x 10 Single-Arm DB OHS