Posted by
James Colson
on Apr 12, 2018 in
WODs
|
0 comments
CrossFit Brunswick – CrossFit
Box News:
– We are starting a new block of Programming this week! Please take care to use your recent 1RM numbers when calculating weight percentages, as this will be the BEST way to see improvement in the coming months!
-Our next 21-Day Challenge starts next Monday the 16th. Tell your friends!!
-Free Friday & CFB Social will be back this month on April 20th!!
-We will be doing a Beach WOD Day May 19th!! Details coming soon…
-Memorial Day Murph will be Monday, May 28th at 10AM!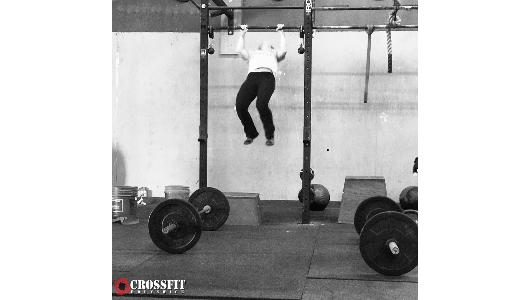 Happy (Freaky) Friday! If you look closely, you'll see Lisa is levitating and not actually hanging on to the bar… we know, it looks fake. But you'd be surprised by how many of our members can levitate. #frkyfriday #pullups #murphprep #canyoulevitatetho
Warm-up
15min for Warm-up, Mobility, & Instruction
3 Rounds

60′ High Knees

60′ Butt Kickers

10 KBS

5 Pull-ups
Then, 5 Reps w/an empty Barbell
Tall Muscle Clean

High Hang Muscle Clean

Shoulder Press

Tall Power Clean

High Hang Power Clean

Push Jerk

Tall Squat Clean

High Hang Squat Clean

Split Jerk
Review & Warm-up Clean & Jerk
Strength
High-Hang Clean & Jerk (15 x 1 @ 60% 1RM)
-1 Rep EMOM for 15min

-We will be building volume with a lower load today so we can focus on making every rep PERFECT.
Metcon
Helen (Time)
3 Rounds for time of:
400m Run
21 Kettlebell Swings, 53# / 35#
12 Pull-ups
20min Cap
Extra Credit
Strength/Accessory: 5 x 10 alt DB Shoulder Press

Skill/Conditioning: 5x 10 High Snatch w/bar

Mobility: Forearms/shoulders