CrossFit Brunswick – CrossFit
Box News: Remember to send us your CFB Success Story for a chance to a free hoodie!
This Month's Free Friday will be the 15th. NO SOCIAL (see below)
Kate & Al will be hosting our Christmas Party this year on Saturday the 16th! More details to come!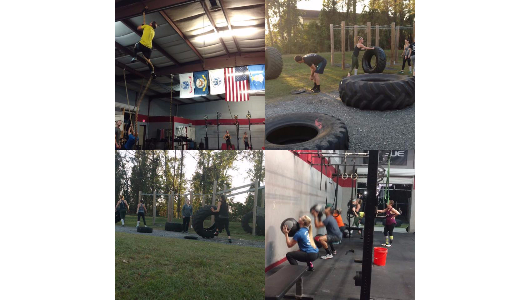 Some of our awesome athletes killin it at last months Free Friday! #ropeclimbs #tireflips #familyfriday

Warm-up
10min for Warm-up, Mobility, & Instruction

400m Run or 500m Row
Then, 5 reps each with a barbell

High-Hang Power Clean

Push Press

Low-Hang Power Clean

Push Press

Thruster
High Hang Power Snatch

Low Hang Power Snatch
Warm-up Snatch

Strength
18min EMOM

*5 burpee penalty for a miss!

Snatch (6 x 1)
-1rep EMOM

-add weight every set

Thruster (6 x 1)
-1rep EMOM

-start with your best snatch weight

-add weight every set

Clean and Jerk (6 x 1)
-1rep EMOM

-start with your best thruster weight

-add weight every set

Metcon
Metcon (Time)
For Time, 21min Cap:

1mile Run

21 Clean & Jerks 135/95

800m Run

15 Thrusters 135/95

400m Run

9 Snatches 135/95

Extra Credit
Strength/Accessory: 10min alt EMOM, 10 GHD Sit-ups or Hip Ext

Skill/Conditioning: 50cal Assault Bike Sprint

Mobility: Lax Ball to feet/shins