CrossFit Brunswick – CrossFit
Box News: The CrossFit Open starts THIS THURSDAY February 22nd with our first Friday Night Lights starting THIS FRIDAY!! Sign-up for the Open at https://games.crossfit.com/open and sign-up for Friday Night Lights at the box. You may still sign up for FNL but we cannot guarantee you'll get a T-Shirt.
Everyone that signs up for The Open will be entered in a drawing for a FREE MASSAGE compliments of Misuk!!
If you have never done the Open with us, we will post Friday's Workout Thursday evening's once it has been announced. There will be a suggested Warm-up & Strength as necessary to prep you for the WOD, but it will only be a suggestion. Our morning classes will run at normal class times. For our afternoon class times, we will instead have 'heats' or 'waves' for everyone to sign-up for, preferably battling it out against members from the other Friday Night Lights teams!
*please note that anyone participating in the Open and/or FNL will be required to be judged by a coach or athlete, hence the 'waves' format. *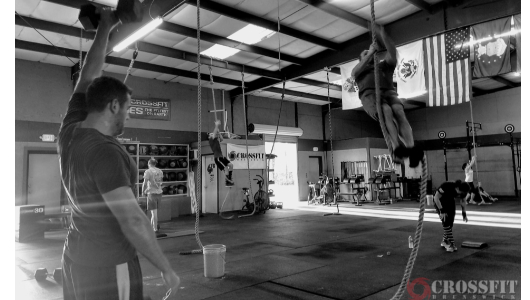 Athletes Chris & Jeff killin it! #partnerwods #ropeclimbs #mcm

Warm-up
12min for Warm-up, Mobility, & Instruction
40sec Slow Row + PVC Shoulders

20sec Rest & Rotate

40sec Moderate Row + Plank Hold

20sec Rest & Rotate

40sec Hard Row + Wall Squat Therapy w/PVC

20sec Rest & Rotate
Then, Mobility:

T-Spine Ext., ~2min

Rig Squats, ~2min
Warm-up OHS

Strength
Overhead Squat (Build to a heavy set of 5)
-15min cap to build to build to a heavy set of 5

Metcon
Metcon (4 Rounds for reps)
Four 3min Rounds for Max Reps:
0:00-3:00

21 Cal Row

21 Bar-Facing Burpees

ME OHS 75/55 (+95/65)
3:00-6:00 REST
6:00-9:00

18 Cal Row

18 Bar Facing Burpees

ME OHS 95/65 (+115/80)
9:00-12:00 REST
12:00-15:00

15 Cal Row

15 Bar Facing Burpees

ME OHS 115/80 (+135/95)
15:00-18:00 REST
18:00-21:00

12 Cal Row

12 Bar Facing Burpees

ME OHS 135/95 (+155/105)
-score each round for total reps completed (including cals rowed & burpees)

Extra Credit
Strength/Accessory: 50/50 GHD Sit-ups/Hip Ext

Skill/Conditioning: 10min Jog/Row/Bike @ conversational pace.

Mobility: Couch Stretch, 3min/side