CrossFit Brunswick – CrossFit
– Free Friday is THIS FRIDAY! Bring a friend to any regularly scheduled class for a FREE Partner workout! CFB Social to follow the 6:15 class!
-New Member Back-to-School promotion! For a limited time, we are taking 15% off new membership commitments. (Don't forget our referral policy… help your friends save some $$$ and you could get a FREE month of CrossFit!!)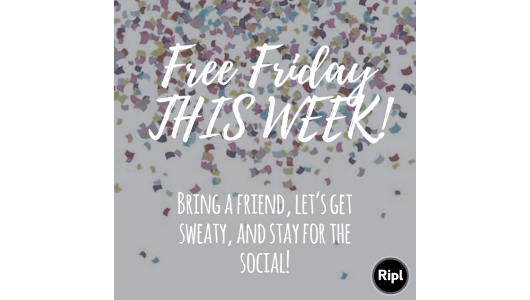 C'mon out for the fun! Free Friday means join us for ANY class- FREE! AND we will have a social following the 6:15 class! Don't miss out! #readyforfriday #whoswithus #freecrossfit #hangoutatcfb #crossfitbrunswick

Warm-up
20min for Warm-up, Mobility, & Instruction
6min EMOM

40sec Slow Row + KBS

20sec Rest & Rotate

40sec Moderate Row + AMSU

20sec Rest & Rotate

40sec Hard Row +Bottom Squat Hold

20sec Rest & Rotate
Then, Mobility

Bar Smash Quads, 1min/side

Foam Roll Lats, 1min/side

Forward Fold, 2min
Then, 5 reps each w/empty barbell
Straight-Legged Deadlift

Hang Power Clean

Front Squat

Good Morning

Deadlift
Warm-up & Review Pistols & TOday's metcon movements

Skill Work
Today we will spend 10min working on Pistols & Pistol Progressions

Metcon
Metcon (AMRAP – Rounds and Reps)
23min Partner AMRAP
1 Deadlift

1 Hang Clean

1 Front Squat

2 Deadlifts

2 Hang Cleans

2 Front Squats

3 Deadlifts

3 Hang Cleans

3 Front Squats

Max Cal Row
Rx: 115/80, Rx+:155/105
*Every 30 calories will count as 1 Round on the rower.
-Athlete's will swap as soon as a round of barbell work is completed and "recover" on the rower (athletes do not have to complete 30 calories before swapping back to the bar)
-Score will be Total Rounds plus Reps of the barbell complex PLUS "Rounds & Reps" of the calorie row.

Extra Credit
Strength/Accessory: 5 x 20+30 GHD Sit-ups + Hip ext

Skill/Conditioning: 50cal Assault Bike Sprint

Mobility: Banded Spinal Mobility