CrossFit Brunswick – CrossFit
Box News:
-Our next 6-Week Nutrition Challenge will be starting TODAY at 10am (following the 9am HeroWOD) All participants need to be present for initial measurements and the Overview Lecture.
-Tomorrow we will be open from 12-1ish for Open Gym ONLY for anyone needing to get in that last minute Murph Prep!
-Memorial Day Murph will be Monday, May 28th. Doors Open at 9:30, First Wave at 10AM!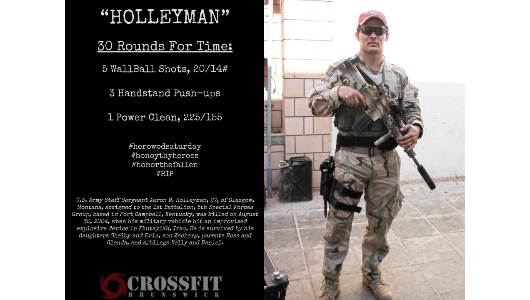 #herowodsaturday #honorthyheroes #honorthefallen #RIP

Warm-up
15min for WOD Explanation & Athlete's Choice Warm-up

Metcon
Holleyman (Time)
30 Rounds for time of:

5 Wall-Ball Shots, 20#

3 Handstand Push-ups

1 Power Clean, 225#
In honor of U.S. Army Staff Sergeant Aaron N. Holleyman, 27, of Glasgow, MS, was killed on August 30, 2004
To learn more about Holleyman click here
-We will be retesting this HeroWOD in 6 weeks!