CrossFit Brunswick – CrossFit
-TODAY is Free Friday!! Bring a friend to any class for a Free PartnerWOD! Social to follow the 615 class!
-Nutrition Challengers; Your next Lecture will be TOMORROW at 10am with Coach Kansas (not the 23rd as previously listed).
-Tank Tops are in! See a Coach before/after class to pick up your pre-orders!
-Don't forget about Father's Day coming up this Sunday!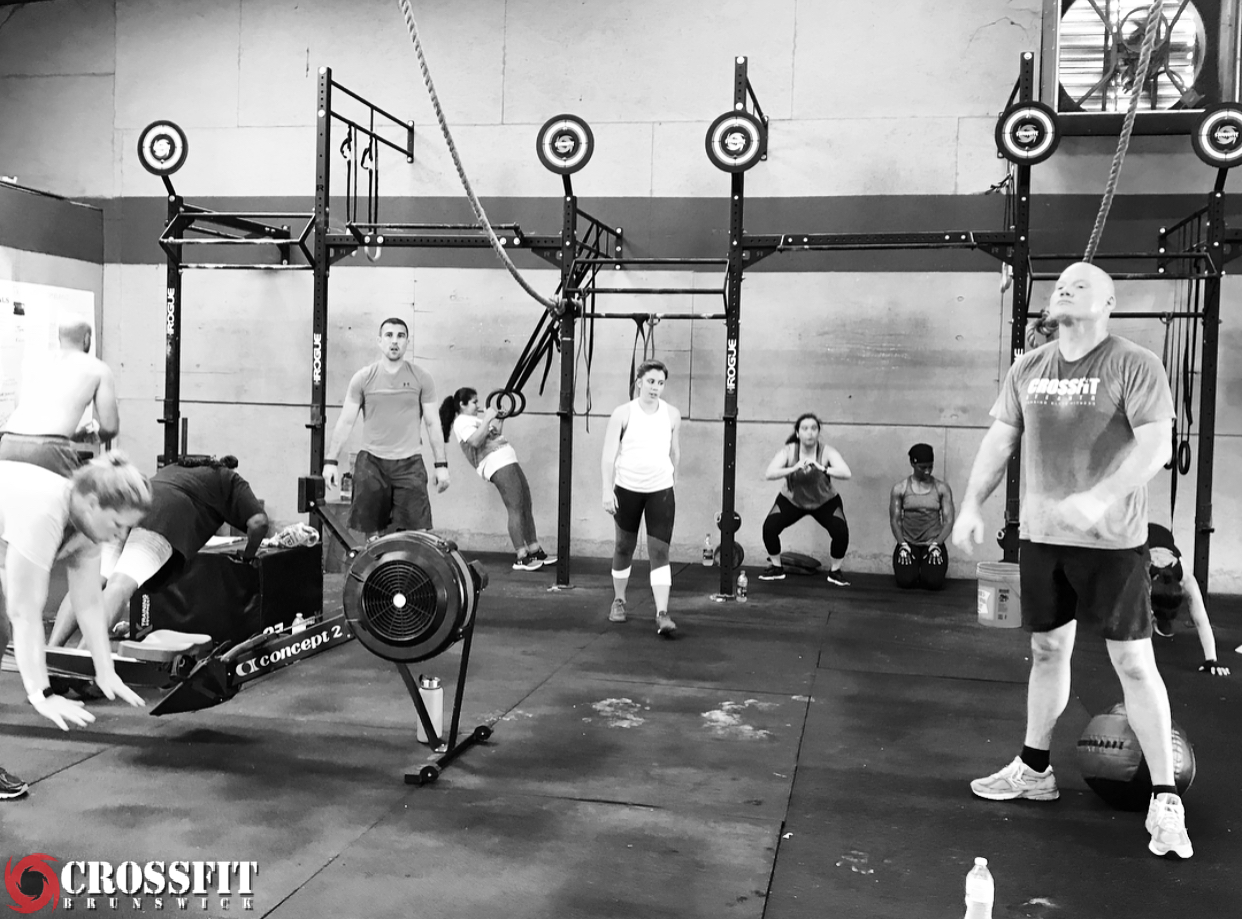 It's FREE FRIDAY Y'ALL! Grab a friend, get them to the gym, and workout with them for free at ANY class today! #strengthinnumbers #bringemout #friendsdontletfriendsnotworkout #crossfitbrunswick,It's FREE FRIDAY Y'ALL! Grab a friend, get them to the gym, an

Warm-up
20min for Warm-up, Mobility, & Instruction
Two Rounds, with a Partner

40sec AMSU w/MB Toss

20sec Rest

40sec Air Squats w/MB Toss

20sec Rest

40sec Plank Hold w/MB Roll

20sec Rest
Then, 5min for Mobility:

PVC Shoulders

Wall Squat Therapy
Warm-up & Review Today's Complex

Strength
Shoulder Press (10min to build to a heavy set)
-Complex for Today

1 Deadlift

2 Hang Power Cleans

4 alt Front Rack Lunges

5 Shoulder Press

Metcon
The Chief (AMRAP – Rounds)
Max rounds in 3 minutes of:

3 Power Cleans, 135#/95#

6 Push-ups

9 Squats

Rest 1-minute.

Repeat for a total of 5 cycles
"Partner Variation"

-Partners will alternate every full round!

***workout must be done Solo to be Rx***

Extra Credit
Strength/Accessory: 10 x 10 GHD Sit-ups & Hip Ext

Skill/Conditioning: 800m Weighted Walk

Mobility: Couch Stretch, 3min/side