CrossFit Brunswick – CrossFit
Box News:
-TODAY is the return of Free Friday & the CFB Social! Bring a friend to any class today for a FREE PartnerWOD. Social to follow the 6:15class!
-Our latest 21-day Challenge started this week! Be sure and introduce yourself to all the new faces you see!
-We will be doing a Beach WOD Day May 19th!! Details coming soon…
-Memorial Day Murph will be Monday, May 28th at 10AM!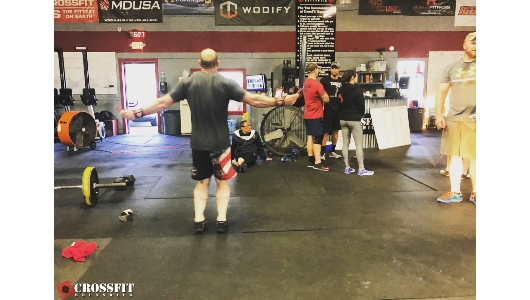 Happy Friday! We love getting together and working out, so let's do BOTH today! Social following the 6:15 class! #socialsareback #foodfoodfood #bringafriend #hangoutwithus

Warm-up
20min for Warm-up, Mobility, & Instruction
2 Rounds w/an empty barbell:

20sec Barbell Good Mornings

10sec Rest

20sec Barbell Back Squats

10sec Rest

20sec Straight Leg Deadlift

10sec Rest

20sec Sumo Deadlift High-Pull

10sec Rest
Then, 5min for Mobility (as needed):

Couch Stretch 1min/side

Lower Back Mobility (Athletes Choice), 2min
Then, Review & Warm-up Deadlifts to 60%1RM

Strength
Deadlift (10 x 3 @ 60%1RM)
-1 set of 3 reps every 2min for 20min (10 rounds)

-WE WILL BE USING A TEMPO TODAY!!

-5 second descent when LOWERING each rep, let the weight touch, then explode up.

-All sets at the same weight.

-On your final set, go for Max Touch-and -Go Reps WITHOUT TEMPO (put reps in comments)

-3-5 HSPU or progressions per set

Metcon
Diane (Time)
21-15-9
Deadlifts, 225# / 155#
Handstand Push-ups
***12 min Cap***
Partner Variation:

Diane Relay

Partner 1 will do 21 deadlifts, then tag partner 2 who will do 21 deadlifts, then tag partner 1 who will do 21 HSPU, then tag partner 2 who will do 21 HSPU, so on and so forth.
New/VIsiting Athletes, Scale with:

Light deadlifts & Push-ups/Shoulder Press

Extra Credit
Strength/Accessory: 10 x 8-10 GHD Sit-ups

Skill/Conditioning: 2 x 400m Sprints (jog to the 800m mark and sprint back)

Mobility:Banded Spinal Mobilization, 5min/side